Nick Clegg opposes ban on smoking in cars with children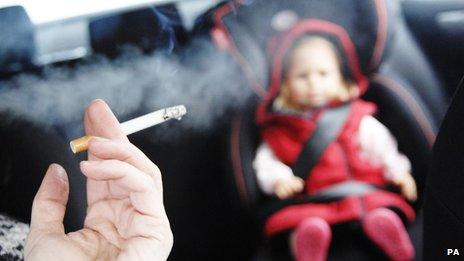 Deputy Prime Minister Nick Clegg says he does not support a ban on smoking in cars carrying children in England.
Mr Clegg, who smokes, said it was "a stupid thing to do when a child is in the back of a car" but said he did not want to "sub-contract" parenthood.
The House of Lords on Wednesday backed a Labour amendment to the Children and Families Bill, which they said was about "protecting children".
But the government has now told its MPs they can have a free vote on the issue.
That means there will not be any party orders to oppose the measure when the Lords amendments to the bill are debated next month, and increases the chances of them being voted through.
Mr Clegg, who is leader of the Liberal Democrats, who are the smaller of the two parties in the coalition government, told his weekly LBC radio phone-in: "Of course it's a stupid thing to do to smoke when a child is in the back of a car but you don't always have to have a law to fix things you don't like."
He added that he was on "an ongoing journey on weaning myself off" cigarettes.
The amendment empowers, but does not compel, the government to make it a criminal offence for drivers to fail to prevent smoking in their vehicle when children are present.
Labour has said that if the measure does not become law before the next election, it will be included in its manifesto.
Smoking was banned in England in workplaces and most enclosed public spaces in July 2007 following similar legislation in Scotland, Wales and Northern Ireland. The law prohibited smoking in vehicles used for work.
The amendment to the Children and Families Bill was brought forward by Lord Hunt of Kings Heath, Lord Faulkner and Baroness Hughes.
Conservative peer Lord Cormack argued that any law which "brings the state into the private space of individuals is to be deplored".
But Lord Hunt said: "I was very surprised by research that has been identified by the British Lung Foundation, which shows that a single cigarette smoked in a moving car with a window half open exposes a child in the centre of a backseat to around two-thirds as much second-hand smoke as in an average smoke-filled pub of days gone by."
The level increased to 11 times when the car was not moving with the windows closed, he said.
Lord Hunt went on: "Some Lords will argue a car is a private space and that we should not legislate for what happens within such a space. But there are more important principles than that.
"For one for me is the need for child protection. Unlike most adults, children lack the freedom to decide when and how to travel, they lack the authority most adults have to ask people not to smoke in their company.
"And in those circumstances I think it is right for Parliament to step in to protect children."
Campaigners say the developing lungs of children are much more vulnerable to the effects of second-hand smoke - which can be concentrated in cars - increasing their risk of illnesses that range from asthma and colds to lung cancer.
But the pro-smoking group Forest disputes such claims.
Director Simon Clark said: "Legislation is completely unnecessary. Most adult smokers accept that smoking in a car with children present is inconsiderate and the overwhelming majority choose not to.
"Education, not legislation, is the way forward."
Forest also argues that banning smoking in private vehicles would be almost impossible to enforce and a serious invasion of people's private space.
Health Minster Earl Howe said during the debate on Wednesday: "We all want to eradicate smoking in cars carrying children.
"The government believes that encouraging lasting and positive behaviour change by making smokers aware of the significant health risks of second-hand smoke will be more effective than resorting to legislation, which is a blunt instrument to tackle the problem."
He also argued there were "substantial challenges" with enforcing a ban on smoking in cars particularly vehicles "travelling at speed", questioning whether people would comply with the law if they knew there was little chance of it being enforced.
But at the end of the debate peers backed the Labour amendment by 222 votes to 197 - with the government subsequently letting it be known that it would not oppose the measure when it came before the Commons and instead allow MPs to vote without party orders.
Calls to prohibit smoking in private vehicles when children are present have been raised in Parliament on several occasions since the 2007 ban came into effect.
The Welsh government has said it would consider a ban should an awareness campaign not lead to a drop in children's exposure to second-hand smoke.
Meanwhile, in Scotland, Lib Dem MSP Jim Hume has indicated he will be presenting a bill this year to bring in a ban, while Northern Ireland's health minister has announced plans for a consultation on the issue.
Related Internet Links
The BBC is not responsible for the content of external sites.