Upbeat signs as East Midlands leads the way?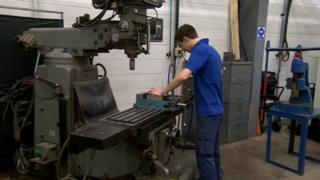 With spring around the corner, who can blame coalition ministers for hinting at economic green shoots.
It's easy to get bamboozled by a blizzard of government statistics.
But closer examination of the last quarterly unemployment figures reveals a very welcome trend, especially for an important manufacturing region like the East Midlands.
The number out of work fell by more than any other English region.
In the East Midlands, 149,000 people are now registered out of work. That's down by 16% on the previous quarter, and an eye-catching 21.6% over the year.
Overall, the unemployment rate is 6.4%. That's also down.
Upbeat mood
If you want to find out why the East Midlands economy appears to be so vibrant, take the road off the M1 motorway north of Nottingham to an industrial estate at Kirkby-in-Ashfield.
One of the firms here is S&S Plastics. It employs around 43 staff and makes plastic mouldings for electrical cables, the NHS, replacement windows and other sectors of the construction industry.
A 21% increase in demand for its products enabled its boss Richard Munyard to take on an additional nine staff. And he plans to take on 10 more over the next year.
The business also benefited from investment through the government and EU's Regional Growth Fund.
"We service something like 35 to 40 industries and they are definitely starting to invest and buy again," he told me.
"It encourages us to invest as well."
This upbeat mood is backed up by George Cowcher, the chief executive of D2N2 - the second largest Chamber of Commerce in the country.
"We've never seen anything on this scale before, certainly not in my experience," he said.
"The economy is picking up. But yes, we've seen the impact of the government's reforms to benefits and those people are now looking more rigorously for work.
"There's also a degree of young people remaining in education and training. But there's also real jobs growth."
Workless households down
But are these new jobs secure or just temporary?
"There is evidence that employers are taking on new staff, " said Bev Crighton, from the University of Derby Business School.
"They're saying we'll take on someone temporarily for a year or maybe even two," she added.
This goes to the heart of the political debate on the economy.
At Westminster, the region's Conservative MPs sense the lead up to the next general election is going in their favour. The economic indicators look good.
For Labour MPs, such as Nottingham South's Lillian Greenwood, the issue remains whether people in work are coping with a rising cost of living.
"We need action on low pay, because it seems a job is no longer a route out of poverty," she told MPs.
The coalition has a strong counter argument to make now.
"The number of workless households has gone down to its lowest ever level," said Conservative cabinet member Andrew Lansley, the government's business manager in the Commons.
"The number in work is now above 30 million. And people who are in work but low paid, are increasingly seeing their tax burden coming down.
"That's because the personal tax allowance is now taking some three million people out of tax altogether."
This hints at the election battleground next year.
Whatever the claims, take a closer look at the unemployment figures for the East Midlands. There's no doubt that our region's economy is leading the way.