Mayor Johnson's choice for ethics boss 'inappropriate', says Green peer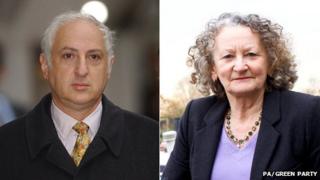 Boris Johnson's choice of chairman for a policing ethics panel has been criticised as "not appropriate" by Green Party grandee Baroness Jones.
The London Assembly member said Lord Carlile should be sacked over his "vigorous defence" of Lord Rennard from sexual harassment allegations.
She stressed that her verdict was not based on the credibility of the claims against Lord Rennard, who denies them.
But the Mayor's office said the case had "no relevance" to the appointment.
Lord Carlile was a "highly respected and independent figure who is well placed to lead inquiries into ethical issues in policing for London", the Mayor's spokeswoman added.
'Nomination welcomed'
In a letter to the peer, Baroness Jones wrote: "I regret that I shall lobby against your appointment.
"My decision is not based on the specific rights or wrongs of the Lord Rennard case. It is based on your vigorous defence of Lord Rennard in the media, which indicates to me a lack of understanding of women's issues.
"I have campaigned on behalf of the women who have been the victims of undercover police and was initially pleased when told undercover policing would be an issue the Ethics Panel would examine.
"However, in view of your very public defence of Lord Rennard how can these women - who have suffered sexual and emotional abuse at the hands of police officers - have any hope that this issue will be dealt with fairly?"
She also warned that "survivors of rape, sexual or domestic violence or those who have suffered from the actions of undercover police" might not have "confidence... in your position".
And she criticised the peer for "defending secret courts... particularly at a time when we have moved from an imperfect oversight system to a drastically flawed one in which transparency and openness have been considerably reduced".
A statement from the Mayor's office continued: "In October, the Assembly's police and crime committee welcomed his nomination.
"Recent comments by Lord Carlile on an unrelated legal matter have no relevance to his position as chair of the Mayor's new ethics panel.
"Further details on the panel's membership and work plan will be announced shortly."
Lord Carlile told BBC News: "I've got absolutely no comment to make on this - it is a matter for the mayor."
Legal action
Lord Rennard, a long-standing Liberal Democrat member and strategist, was suspended from the party after an internal investigation found that sexual harassment claims against him were "broadly credible" but could not be proven beyond reasonable doubt.
He has always denied the claims against him and is reportedly considering legal action to reverse the suspension.
Lib Dem Lord Carlile, his friend and legal advisor, protested that the party leadership had acted against the peer in a way which "made the North Korean judicial system seem benign, and anything done by Henry VIII's thugs to extract confessions from Anne Boleyn's courtiers gentle".
But Alison Smith, one of four women complained against Lord Rennard, said: "Rather than trying to justify unacceptable behaviour by threatening legal action, Rennard and his advisors might better take a few days to reflect on why the allegations of sexual harassment have struck such a chord."
Lord Carlile QC is a former independent reviewer of terrorism legislation, a post he occupied from 2002 to 2011.
The 65-year-old QC has warned about the dangers of laws undermining human rights and criticised the increased use of police "stop and search" powers.
But he also supported the government's controversial control orders, which put terrorism suspects under close supervision, and has criticised human rights rulings in Strasbourg which he said had made the UK a "safe haven" for suspected foreign terrorists.