No police apology for MP Tim Loughton in harassment row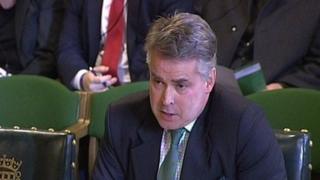 A chief constable has refused to apologise to a Tory MP despite admitting his force made mistakes in sending him a harassment warning.
Sussex Police issued Tim Loughton with a warning after he sent a constituent an official transcript of what he had said about him in Parliament.
Mr Loughton has been involved in a long-running war of words with the man.
He accused police of fuelling the row, but Chief Constable Martin Richards has rejected the MP's call for an apology.
Mr Loughton, Conservative MP for East Worthing and Shoreham, has accused a constituent of sending him abusive messages over a period of years.
'Collective harassment'
Last March, he took the unusual step of making a speech in the Commons in which he announced he was "sacking" the man as a constituent and would sever all contact with him.
In his speech, Mr Loughton told MPs the constituent had "worked tirelessly to try to make my life hell", describing him as a "serial complainer with more chips on his shoulder than McCain".
On the advice of the clerk of the Commons, he mailed the constituent a copy of Hansard, the official record of what is said in Parliament, to let him know of his decision.
Sussex Police - which had previously investigated allegations of racial hate crime made by the man against the MP - received a complaint that this mailing had caused him distress and alarm.
The force sent Mr Loughton a formal police information notice (PIN) informing him that his constituent saw it as part of a campaign of "collective harassment" and that any further behaviour of this kind could leave him liable to prosecution.
Giving evidence on Tuesday to the Commons Privileges Committee, Mr Loughton, the former Children's Minister, said: "I wanted to close that situation down, not inflame it.
"By issuing a PIN, by taking this position to the crazy extent to which the police have - that has exacerbated the situation out of all control."
He added: "The notion that... the mere sending of the parliamentary record of the House of Commons can constitute an offence of harassment is extraordinary, bizarre and deeply worrying for the way we do our business in this place."
'Fully support'
He told the cross-party committee of backbench MPs the incident had made him "think twice" before speaking out about issues of concern to his constituents.
Robin Merrett, former Assistant Chief Constable of Sussex Police, told the committee he could "understand" why Mr Loughton's constituent could have felt alarmed to receive a copy of Hansard with no indication of who had sent it.
But it had not been the force's intention to stop MPs sending extracts from Hansard to their constituents and the force had sent PINs to other people involved in the dispute in an effort to "draw a line" under it, said Mr Merrett, who retired from the force in December.
He said he had been "mistakenly confident" about his understanding of parliamentary privilege, and had not realised that the 1840 Parliamentary Papers Act gave full legal protection to MPs sending out copies of reports of proceedings in the House.
"I apologise to the House and this committee for not being aware of the 1840 Act," said Mr Merrett, but he added: "I fully support the sending of the PIN."
Chief Constable Martin Richards told the committee: "Our knowledge was not as strong as it should have been in my view and I have apologised for that."
"I would say, however, that we are receiving conflicting advices from leading counsel and from the clerk [of the Commons] on that issue."
Asked if he had apologised directly to Mr Loughton, Mr Richards replied: "No. I have explained and apologised to this committee."