Sir Malcolm Bruce wins Lib Dem deputy leadership contest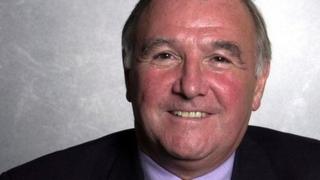 Lib Dem MPs have chosen Sir Malcolm Bruce as their new deputy leader.
The MP for Gordon, who has chaired the Commons international development committee since 2005, is due to stand down at the next election.
Lorely Burt and Gordon Birtwistle were also in the running to take up the role vacated by Simon Hughes, who recently became a justice minister.
Party leader and deputy PM Nick Clegg said he was "delighted to welcome Malcolm to the post".
"He is admired across the party for his experience and his ability to keep a cool head - exactly what we need as we head towards the election," Mr Clegg continued.
'Constructive and progressive'
Sir Malcolm, a 69-year-old former journalist and ex-Scottish Lib Dem leader, said: "I thank my parliamentary colleagues for the confidence they have shown in me.
"I am looking forward to working with Nick Clegg's team, using my experience in and out of Parliament to project a strong and coherent Liberal Democrat message.
"We came into government to rescue the country from economic disaster. Thanks to the Liberal Democrats we are on the road to recovery, income tax has been cut for millions, pensions have had their biggest ever increase and we have moderated the excesses sought by some Conservatives.
"The country does not need Labour to blow it away by reverting to their old habits, unbridled Conservatism to divide our society or the excesses of nationalism to destroy UK cohesion."
Ms Burt, MP for Solihull, is a former assistant prison governor who set up her own training company. She works as a ministerial aide to Chief Secretary to the Treasury Danny Alexander.
Mr Birtwistle, who is MP for Burnley, was an engineer before entering politics.
The party's 56 MPs heard from the three candidates after their weekly meeting.
The election comes after a difficult few weeks for the Lib Dems, with leader Nick Clegg facing criticism over the way he dealt with sexual harassment allegations by female party activists against former chief executive Lord Rennard.
The peer, who denies the claims, has been suspended from the party and is facing a fresh disciplinary process for failing to apologise to the women.
Mr Clegg has also been forced to defend his actions in relation to claims of "unwelcome sexual behaviour" by Portsmouth South MP Mike Hancock towards a constituent.
The MP was suspended from the party after the leaking of a QC's report into the allegations, which he denies.