Immigration Bill won't do the job, says Tory MP Dominic Raab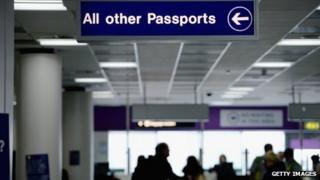 Government attempts to make it easier to deport foreign criminals "are well-intentioned but they won't do the job", a Conservative MP has warned.
Dominic Raab has proposed an amendment to the coalition's Immigration Bill, calling for those sentenced to more than a year in prison to be sent home.
He told BBC Radio 4's Today programme this was a "practical" proposal.
But the Home Office said it was already bringing in measures to ensure foreign criminals could not "cheat justice".
As part of a package of reforms, the Immigration Bill says foreign criminals can be deported even before the outcome of their appeal is known, as long as they do not face "serious irreversible harm" at home.
The number of grounds for appeal against deportation is also being reduced from 17 to four, which ministers say will simplify the system.
The bill returns to the House of Commons on Thursday, with the government facing two amendments from Conservatives unhappy that it will not do enough to reduce net migration to the UK.
'Abuse'
One, tabled by Tory MP Nigel Mills, proposes putting working restrictions back on Romanians and Bulgarians until 2018, following the expiry of temporary controls on 1 January.
Mr Raab, meanwhile, wants to make it mandatory to deport any foreigner convicted of a crime resulting in a prison sentence of a year or longer, unless they face the threat of torture or death.
He said criminals pleading the right to a "family life" in the UK - because they had relatives in the country - under Article Eight of the European Convention on Human Rights, accounted for 89% of successful appeals against the government.
Mr Raab told Today: "I'm trying to find a practical solution to the biggest human rights problem we've got. I suspect that's why it's attracted so much cross-party support."
He added: "I think the home secretary's proposals are well-intentioned but they won't do the job."
A Home Office spokesman said: "Far too many foreign criminals abuse human rights laws to hide behind their so-called family life in an attempt to cheat justice.
"We are already passing legislation in the Immigration Bill to ensure judges deal with Article Eight claims in the right way - and don't regard the right to a family life as an absolute and unqualified one.
"Those who abuse our hospitality by committing serious crimes have no place in Britain and we are determined to see more of them kicked out of the country."
On Monday, Prime Minister David Cameron said the Immigration Bill contained "sensible" measures aimed at lowering annual net migration.
It would ensure migrants had to pay to use the NHS and could not get council housing or defer appeals against deportation judgements if they were not entitled to be in the UK, he added.