Jobcentres assess claimants 'haphazardly', say MPs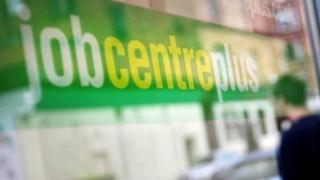 Jobcentres are investigating benefit claimants' needs in a "haphazard" way, missing crucial information about barriers to work, MPs have said.
The work and pensions committee urged the government to provide incentives for Jobcentre Plus (JCP) to get people into work, not just off benefits.
Chairwoman Dame Anne Begg warned that the network could be "hitting its targets but missing the point".
Ministers said the system was working, citing the recent fall in unemployment.
'Drug dependency'
But Labour's Dame Anne said: "JCP's performance is currently measured primarily by the proportion of claimants leaving benefit by specific points in their claims.
"This takes no account of whether they are leaving benefit to start a job or for less positive reasons, including being sanctioned or simply transferring to another benefit.
"We believe this risks JCP hitting its targets but missing the point. JCP must be very clearly incentivised to get people into work, not just off benefits.
"The processes by which JCP currently establishes claimants' needs are haphazard and prone to missing crucial information about a person's barriers to working, including homelessness and drug dependency.
"A more thorough and systematic approach to assessing claimants' needs is required."
The MPs called for a review of whether the sanctions regime was having the desired effect of encouraging claimants to seek work.
The Public and Commercial Services union said the government's "stricter" rules have led to target-like objectives being set for staff to sanction a certain number of claimants, regardless of their behaviour.
"No-one joined the employment service to be in conflict with the people they are there to help, but this government is seeking to punish the unemployed, sick and disabled," general secretary Mark Serwotka said.
Dame Anne also urged ministers to be clearer about how they will ensure jobcentres are adequately resourced.
But a spokesperson for the Department of Work and Pensions said: "The report recognises that Jobcentre Plus responds well to changes and is cost effective.
"Every day Jobcentre advisers are successfully helping people realise their aspiration to move off benefits and into work so they can secure their future.
"There has been a faster than forecasted fall in unemployment, which suggests that people are being encouraged to look for work more intensely than in the past, and the changes introduced to sanctions are working as intended."