MP moots smartphone ban for teen 'sexting' bullies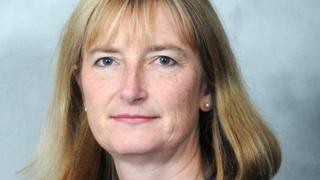 The government should consider preventing young teenagers from owning smartphones if they have been caught using them to share sexualised images of minors, a Conservative MP has said.
Sarah Wollaston said some teenagers were illegally sharing sexual images of other teenagers without their consent, which was "bullying and harassment".
But she added: "I'm not in favour of criminalising children."
Instead, such cases should be dealt with swiftly out of court, she argued.
At Home Office questions in the Commons, Ms Wollaston said: "Many young people are feeling pressured into sending intimate photographs of themselves only to find that those images are sometimes posted, distributed or shared without their consent.
"Could the minister say what measures are being taken, and would he support measures to prevent smartphone use among those who are not mature enough to understand that this is an important form of bullying?"
She later explained: "I'm calling for a review of measures that could be used to prevent the sharing of sexual images of children.
"There is a very serious case for asking the Justice Department and the Home Office to consider whether, in some circumstances, there are some teenagers who should not have a smartphone."
Responding for the government, Lib Dem Home Office minister Mr Baker said: "We have given teachers stronger powers already to tackle cyberbullying by searching for and if necessary deleting inappropriate images or files on electronic devices including on mobile phones.
"It's also critical to educate young people about the risks of sending intimate photographs. The Child Exploitation Online Protection Centre has developed a specific educational resource to tackle sexting, which is designed for use by teachers.
"And of course there are numerous laws in place which can be used to deal with those who behave in this appalling manner."