Developers and councils invited to bid for housing cash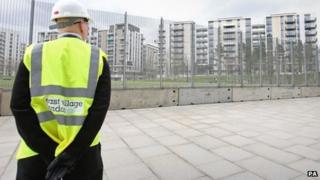 Ministers are encouraging developers and housing associations to bid for cash from a £3.3bn fund which they say will create 165,000 affordable homes.
The scheme, announced in June, is designed to facilitate billions of investment in construction between 2015 and 2018 and support some 165,000 jobs.
The government says it is vital that surplus land across the public sector is made available for housing.
Labour have pledged to build 200,000 affordable homes a year if elected.
There have been repeated warnings that levels of house building have failed to keep up with demand, both before and since the 2008 financial crisis.
A report by the University of Cambridge last year suggested 934,388 more properties at sub-market rents would be needed in England by 2021 to prevent an affordable housing crisis.
The government says it is starting to address this and from Monday, housing associations, councils, and house builders will be invited to bid for government funding for a new scheme starting after the 2015 election.
'Real progress'
While the government has set aside £3.3bn over three years, ministers say leveraging more private sector funding than before will inject billions of pounds into the construction sector and achieve a better deal for taxpayers.
The coalition says the scheme, coming on top of existing plans to deliver 170,000 new homes between 2011 and 2015, will represent the fastest level of affordable house building for 20 years.
Housing minister Kris Hopkins said "real progress" was being made, with 99,000 new homes already started in the past three years but more needed to be done.
"House-building is an essential part of this government's long-term economic plan," he said. "That's why we have designed an ambitious new scheme to build affordable homes at the fastest rate for 20 years."
The new programme, he added, would "support 165,000 jobs in construction, sustain thousands of small businesses and provide homes where future generations can live and raise families of their own".
To qualify for funding, housing associations will have to focus on providing new homes in short supply in their local communities.
The emphasis in many areas will be on building more one and two bedroom homes, so that smaller households can move to larger accommodation.
Social landlords will also need to demonstrate that they are maximising their property portfolio in areas with higher prices, potentially selling rather than re-letting properties to fund new developments.