'Gagging clauses' in government pay-offs criticised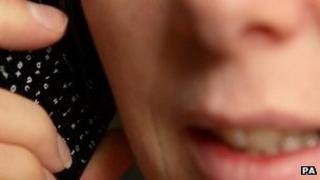 The use of so-called "gagging clauses" when paying off government employees is preventing the public from finding out about "serious and systematic failures" in the public sector, MPs have warned.
Payments of more than £28.4 million were made between 2010 and 2013, the Public Accounts Committee has said.
Chairman Margaret Hodge argued it was "outrageous" some of this money had been spent to "cover up" failings.
The government said it was introducing "significant changes" to the system.
Public sector bodies can sign "compromise" or "settlement" agreements to terminate employment contracts, which can include confidentiality clauses so certain information is withheld.
Treasury approval is required before money is used this way and 1,053 such payments, totalling £28.4m, occurred over the three-year period.
'Inappropriate'
But the committee said a "lack of any meaningful central oversight" meant the "true" number and value were unknown. The Treasury did not need to approve payments by councils, the police, the BBC and private sector firms that provide public services, it noted.
Examples raised during the cross-party committee's inquiry included £225,000 for former Morecambe Bay NHS Trust chief executive Tony Halsall, who stood down amid concerns over baby deaths.
The committee's report also referred to the £120,000 offered to buy the silence of an NHS whistle-blower in the case of the death of Peter Connelly, known as Baby P, in London in 2007.
Confidentiality clauses "may be appropriate in some circumstances" but had been "used inappropriately to deter former employees from speaking out about serious and systematic failures within the public sector, for example, in patient care or child safety".
Mrs Hodge, a Labour MP, said: "We are deeply concerned about the use of compromise agreements and special severance payments to terminate employment in the public sector.
"It is clear that confidentiality clauses may have been used in compromise agreements to cover up failure, and this is simply outrageous."
'Significant changes'
She added: "We heard evidence of shocking examples of using taxpayers' money to 'pay off' individuals who have flagged up concerns about patient or child safety.
"It is vital that people feel free to speak out to help prevent terrible tragedies or even deaths, and protecting the reputation of an organisation, such as the NHS, at the expense of public safety is unacceptable."
Mrs Hodge also said: "A confidentiality clause in a compromise agreement is not meant to prevent legitimate whistle-blowing - but people who have been offered, or accepted compromise agreements have clearly felt gagged."
The committee's report welcomed proposals for the Treasury and Cabinet Office to toughen rules and monitoring of compromise agreements and confidentiality clauses.
A government spokeswoman said: "Hard-working people do not expect their taxes to be spent to cover up failure - that's why we took action and are bringing in significant changes, which will ensure severance payments are not used to reward poor performance or prevent whistle-blowing.
"We will examine this report and welcome that the [committee] recognises the work we have already done."