Benefits Street reaction shows poor 'ghettoised', says Duncan Smith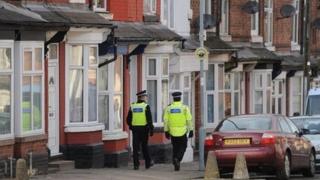 The shock felt by viewers of the TV show Benefits Street demonstrates that people on welfare are "ghettoised", Iain Duncan Smith has said.
The middle classes were still "largely unaware of the true nature of life" in poor communities, said the work and pensions secretary.
And this showed the need to get those on benefits back into jobs.
The Channel 4 documentary series shows life in a street where most residents are out of work.
It has sharply divided opinion between those who think it demonises the poor and those who see it as an indictment of the welfare state.
Channel 4 has resisted calls to axe the series, filmed in a street in Birmingham, amid claims from some commentators and residents that it presents a biased portrayal of life on the breadline.
'Out of sight'
Mr Duncan Smith began formulating the government's welfare reforms - focusing on the need to make work pay and break the culture of "benefit dependency" - when the Conservatives were in opposition.
In a speech to mark the 10th anniversary of the think tank he founded, the Centre for Social Justice, he said: "With income inequality under Labour the worst for a generation, whilst the middle class majority were aware of the problems in poor communities, they remained largely unaware of the true nature of life on some of our estates.
"For too long we let these problems be ghettoised as though they were a different country. Even now, for the most part they remain out of sight - meaning people are shocked if and when they are confronted with the reality."
Asked on BBC Radio 4's World at One whether this was a reference to Benefits Street, Mr Duncan Smith said it was more of a comment on "the surprise that people had that it was going on" which he said demonstrated the need to change the lives of those on benefits.
'Mission'
Speaking after the latest figures showed a fall in unemployment and an increase in the number of people in work to more than 30 million, Mr Duncan Smith argued that his shake-up of the benefits system were helping to get more people into jobs.
He added: "Our mission here should be about renewal, about getting people who have been locked away in the benefits system away from life and make them independent."
In his speech, he said the coalition government had managed to "reframe the argument - challenging a narrative beloved of the left, which focuses so exclusively on how much is being spent on welfare that it risks overlooking the real question ... that it is not about how much goes into the benefit system, but what difference it makes to people at the other end".
But, for Labour, shadow work and pensions secretary Rachel Reeves said: "This is no time for self-congratulatory speeches from Iain Duncan Smith. His time would be better spent getting a grip of his lamentable policies and the hundreds of millions of pounds of taxpayers' money he is needlessly wasting."
TUC general secretary Frances O'Grady said: "Iain Duncan Smith's claim to have made people feel more secure through his cuts to the welfare safety net is ridiculous."
She added: "The truth is that welfare fraud has just gone up, while millions of hard-working families have suffered from tax credit cuts and the child benefit freeze, and a whole new generation now fear future cuts to help for young people."