Davos: EU vital for UK future, says Nick Clegg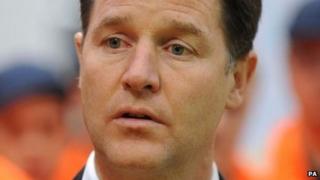 Nick Clegg has argued it is "vital" the UK stays in the EU, in an address to political and business leaders at the World Economic Forum in Davos.
The deputy prime minister said this was essential to cope with competition from countries such as China and India.
The Lib Dems accused the Conservatives of "flirting with the exit door" of the EU.
But a Tory source said Mr Clegg was "tagging along" with David Cameron, who was also at Davos on Thursday.
Mr Clegg has not taken part in the event, held annually in the Swiss ski resort, since 2011.
Referendum promise
A Lib Dem spokesperson said: "He's attending Davos to represent thousands of British businesses and the millions of British workers who rely on the UK's position in Europe.
"With European leaders discussing reform, he is not prepared to simply allow Conservatives flirting with the exit door to be the only British voice in this important debate."
The party added: "Nick Clegg has become so concerned about the damage being done to the reputation of UK plc by the Tory party that he wants to take every possible opportunity to set out a more balanced view to investors and the international community."
But a Conservative source told the BBC: "It's nice that Clegg can tag along but the fact is that only David Cameron's long-term plan can fix our relationship with Europe and ensure Europe reforms in a way that delivers growth, jobs and financial security for the British people.
"And only David Cameron will give the British people their say on our future in Europe in an in-out referendum."
The Conservative Party has promised an in/out referendum on EU membership if it wins a majority at the 2015 general election.
This would happen after a renegotiation of the UK's relationship with Brussels.
Prime Minister David Cameron says this will allow Europe to be more focused on the single market and provide for certain centralised powers to be repatriated to countries which want them back.
'Taken seriously'
Chancellor George Osborne said last week that the EU should "reform or decline".
In his public session at Davos, discussing trade with China and the US, Mr Clegg said: "The UK cannot stand tall in the modern world if it doesn't stand tall in its own backyard. That means standing tall in the EU and working collectively towards growth.
"To trade successfully in the modern world, Britain must stay in. As an EU member, we have access to trade agreements with more than 50 countries around the world - and we've launched negotiations with the US."
Mr Clegg added: "As power rises in the East and the US subsequently turns more of its attention in that direction, the importance to Britain of us being part of Europe will become even more apparent. It is vital for our country's prosperity and vital for British jobs.
"We simply will not be taken seriously by the Americans or the Chinese if we're isolated and irrelevant amongst our own neighbours. We stand tall in Washington, Beijing, Delhi when we stand tall in Brussels, Paris and Berlin."
London Mayor Boris Johnson, also appearing at Davos, backed the prime minister's position on Europe, saying: "We want to have a renegotiation. We think there's a better deal to be done.
"We think Europe as a whole needs reform; it's a great zone of stagnation, a microclimate of economic gloom, or has been, largely because of the euro. Look at what's happening in France - it's not fantastic."
Mr Johnson, a Conservative, told Bloomberg Television that "in many ways the stakes are lower on the EU than perhaps they were 20 or 30 years ago, in the sense that the European Union as a whole now accounts for much less of the global economy".
He added: "It's not so vital to the prospects of the UK as it was. Well, it's vital, it's still hugely important, but it's not as important."