Ministers fear public beating, says ex-BP chief Lord Browne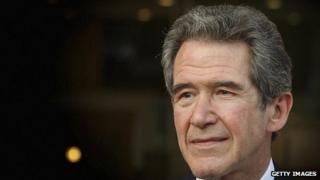 Fear of being given a "public beating" when things go wrong is preventing government ministers learning from their mistakes, Lord Browne has said.
The former BP chief - who is now a leading government adviser - said ministers had to pretend "everything is a success".
"Therefore no learning takes place - that is not right because it just cannot be," he told an event in London.
He said governments and corporations had to be more open and transparent.
Lord Browne was drafted in as the government's first non-executive director three years ago to sharpen up the way Whitehall is run and introduce a more business-like culture into the civil service.
He said ministers and officials were given a "public beating" for "very good reasons" but it made it difficult to develop an "oral tradition" of failures and mistakes in the way that corporations did.
'Idiot' fear
Lord Turner, the former head of the Financial Services Authority, said only about "seven in 10" business decisions were a success - but it was much tougher for ministers to explain themselves to a Parliamentary committee than for chief executives to face institutional shareholders.
Lord Turner, who like Lord Browne has faced scrutiny by a committee of MPs on several occasions, said there was a fear of being made to look an "idiot" in public.
"This creates an unwillingness to take risks and a desire to present everything as a success even when it isn't a success," he said.
The pair were speaking at the presentation of a global survey of trust in public institutions by PR firm Edelman.
The survey of 33,000 people, including opinion formers and ordinary members of the public, across 27 countries suggested trust in government has fallen sharply over the past year, particularly in the US.
Level pegging
The gap between trust in business and government is the largest since the survey began in 2001, although trust in charities and other non-governmental organisations outstripped both, with media the least trusted institution.
In the UK, the survey suggested the public was not giving the coalition government credit for the economic recovery, with 56% of those surveyed saying it was being driven by business, compared with 25% who said it was down to government actions.
David Cameron and Ed Miliband were roughly level pegging on whether the public trusted them, at 33%, although the gap between Mr Miliband's personal rating and his party's was bigger than Mr Cameron's. Lib Dem leader Nick Clegg was on 27%, UKIP's Nigel Farage on 25% and the SNP leader Alex Salmond on 20%.
London Mayor Boris Johnson had the highest trust rating - 43% - according to the 1,001 people surveyed in the online poll.
Just 20% of those surveyed said they would favour a coalition government after the next election, with 65% saying they would prefer it if a single party was to take charge.