Syria: UK must accept refugees as 'matter of humanity'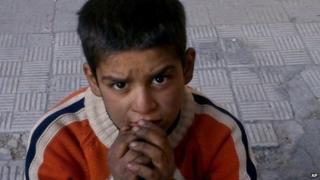 The UK will have "abandoned its humanity" if it does not open its doors to Syrian refugees, former Lib Dem leader Sir Menzies Campbell has said.
The UK has declined to join a UN-backed programme to accept the "most vulnerable" victims of the civil war.
Ministers say they have given £500m in aid and insist it is better to help the hundreds of thousands of refugees displaced around Syria's borders.
Labour say it would be "shameful" not to offer "limited sanctuary".
Only 10 EU member states have offered to take part in the UN-led resettlement programme.
'Token'
In September, a spokeswoman for the UN High Commissioner for Refugees said: "Resettlement of refugees, whether formal resettlement or expedited relocation... is a vital and potentially life-saving tool for helping particularly vulnerable refugees.
"Those resettled may be women and girls at risk, people with serious medical conditions, survivors of torture or others with special needs."
Amnesty International has said EU leaders have "miserably failed" to provide a safe haven to Syrians.
But, pressed on the government's response in the House of Commons, immigration minister Mark Harper argued that resettlement programmes could "provide only very limited relief and have only a token impact on the huge numbers of refugees".
In contrast, Mr Harper said, the UK could help much larger numbers by concentrating its efforts on helping refugees in Syria and those in camps on the border with Jordan and Turkey.
As a result of UK efforts, he added, 320,000 people had been provided with food in Syria and neighbouring countries while 244,000 had got medical assistance.
"We are helping hundreds of thousands more people than most other European countries and we can be very proud of that response," he said.
"Most of those displaced want to return home as soon as it is safe to do so and protection in the region affords them that hope."
'Shameful'
But Sir Menzies Campbell suggested the government was worried about a political backlash amid public concerns about immigration levels in general.
"The children of Syria have suffered grievously," he said. "Are we really saying that we cannot take a few hundred of those who have suffered most?
"Are we so intimidated by UKIP that we have abandoned our humanity?"
Labour's shadow home secretary Yvette Cooper said Mr Harper had "dismissed the UN programme in favour of regional support, but it is not an either/or question".
The government was neglecting the UK's "long tradition of sanctuary", she continued.
"How can we ask Jordan, Turkey and Lebanon to keep their borders open or to keep helping millions of people if Britain will not do its bit for a few hundred of the most vulnerable, or if we will not even take in those with British relatives who are desperate to help?" Ms Cooper asked.
"It would be shameful for Britain to refuse."
UKIP has pressed for much tighter controls on immigration but leader Nigel Farage has said the UK should accept refugees from Syria, arguing they are fundamentally different from economic migrants.
The UN has said more than nine million Syrians, about half of Syria's population, are in urgent need of aid.