Plebgate: Police apology to Andrew Mitchell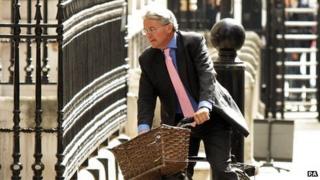 Police Federation chairman Steve Williams has apologised to Andrew Mitchell for the actions of an officer who has admitted to lying over his involvement in the plebgate saga.
PC Keith Wallis admitted falsely claiming to have witnessed the 2012 row between the then-cabinet minister and police.
The altercation led to Mr Mitchell's resignation from the cabinet.
Meanwhile, a report says the federation should be changed "from top to bottom".
An inquiry also found the organisation, which represents rank-and-file officers, had experienced a "worrying loss of confidence and competence".
Conservative MP Mr Mitchell resigned as government chief whip following allegations he called police in Downing Street "plebs".
He has always denied using that word but has admitted swearing during an altercation in September 2012.
'Grateful'
PC Wallis sent an email to his local MP John Randall, then the Conservative deputy chief whip, wrongly stating he had witnessed the row.
But he has since pleaded guilty to a charge of misconduct in public office and offered to resign.
"When police get it wrong it is only right and proper that we take responsibility for our actions," Mr Williams said.
"Following the conviction of PC Keith Wallis it is only appropriate that I apologise to Mr Mitchell for the officer's actions. Clearly there are ongoing legal and disciplinary issues and in the interest of all parties, including Mr Mitchell himself, I do not feel that I can comment further at this time.
"I would also like to take this opportunity to apologise to our members and the wider public for the damage this unfortunate incident has had in undermining confidence in the police service."
In response, Mr Mitchell said he was "grateful" for the apology.
He continued: "I would welcome the opportunity to meet with [Mr Williams] for a constructive discussion in the very near future."
A review of the Police Federation of England and Wales by former Home Office permanent secretary Sir David Normington has found a "worrying loss of confidence and competence", stating that it should be changed from "top to bottom".
There was an "almost universal perception" among its 127,000 members that it had been a "weak voice" during the changes, tending to "oppose rather than engage" and putting forward ideas "too late to be influential".
The review was set up following criticism of the federation in the wake of the plebgate affair.
Mr Mitchell said: "I think the conclusions of the Normington Report that the Police Federation requires root-and-branch reform are right."
The MP has not ruled out a return to government, saying he would be "happy to help" Prime Minister David Cameron.