Andrew Mitchell 'happy to help PM again'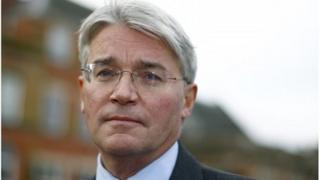 Andrew Mitchell MP, who resigned in the wake of the 'plebgate' row with police at Downing Street, has declined to rule out a return to cabinet.
He said he speaks to the prime minister "quite often" and would be "very happy" to help the Tories win re-election.
But Mr Mitchell said he could not reveal "private conversations".
He received an apology from the Metropolitan Police commissioner last week after a serving officer admitted lying about witnessing the altercation.
PC Keith Wallis, 53, admitted falsely claiming to have witnessed a row between Mr Mitchell and police in September 2012.
David Cameron said that the officer's conduct had been "completely unacceptable".
'Help the party'
Appearing on BBC Radio 4's Any Questions Mr Mitchell said: "I very much enjoyed being a cabinet minister before, I enjoyed very much working with the Prime Minister and I would like to help ensure that the Conservative Party win the next election next year."
Asked by presenter Jonathan Dimbleby if he would accept a job offer from Mr Cameron, he said: "If the prime minister asked me to do anything which would help ensure he is prime minister after 2015 I would be very happy to help."
Pressed on whether he had discussed a cabinet comeback with Mr Cameron, the Sutton Coldfield MP said: "I don't think it would be right for me to reveal... private conversations. But I do speak to the prime minister quite often and I very much enjoy working with him."
What came to be labelled by the media as 'plebgate' occurred when Mr Mitchell was stopped from cycling through Downing Street's main gates by another police officer, Toby Rowland.
Mr Mitchell has admitted swearing during the incident but has denied claims that he swore directly at police or used the word "pleb".
PC Wallis sent an email to his local MP John Randall, the then Conservative deputy chief whip, wrongly stating that he had witnessed the row.
Met Commissioner Sir Bernard Hogan-Howe apologised to Mr Mitchell, adding: "I expect my officers to serve the public without fear or favour, where officers break the law they must expect to be held to account and answer for what they have done."
Prime Minister David Cameron welcomed the guilty plea but said it was "completely unacceptable for a serving police officer to falsify an account of any incident".