Labour plan to cap market share of High Street banks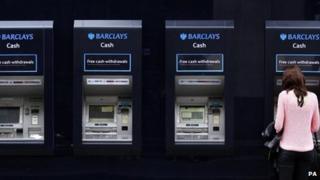 The big high street banks would be forced to sell off branches to boost competition if Labour wins power.
Ed Miliband says capping the market share of the "big five" - HSBC, Barclays, Royal Bank of Scotland, Santander and Lloyds - would make it easier for new banks to challenge them.
The Labour leader says this will lead to a better deal for bank customers.
Labour also wants the Treasury to block plans by RBS to pay staff bonuses worth double their salary.
In 2012, the leading five banks accounted for 90% of the market share in Britain in terms of customer numbers and total lending figures.
In July 2012, the Labour leader said the banking industry had become "economically damaging and socially destructive" and needed far-reaching change - and Friday's speech will see him outline what the party would do if it won power.
Mr Miliband will argue that what he calls a "living standards crisis" for those on low and middle incomes can only be addressed by making long-term structural changes to the British economy, including banking.
Explaining the bank branch proposal, shadow chief secretary to the Treasury Chris Leslie said: "We have got to give customers more choice. Fees and charges are too high. There is not enough of a sense of competition, a hunger among the banks to serve customers."
Politicians from all parties have called for more competition in the industry, saying this would promote better deals and service for customers.
The government has passed new laws to force regulators to produce greater competition in banking, acting on recommendations of the Parliamentary Commission on Banking Standards and the Vickers Commission.
Responding to reports of Mr Miliband's planned announcement, a Conservative Party spokesman said the Labour leader was talking about a problem "that was created by the Labour government he was at the heart of".
He added: "That's why part of David Cameron's long-term economic plan is about fixing our banking system - by increasing competition on the High Street, ring-fencing retail from investment banking so that no bank is too big to fail, and increasing lending to business.
"There is already greater choice on the high street now than there was under Labour.
"Our changes will mean a more secure banking system for businesses, hardworking people and their families."
In a separate development, Labour has denied Conservative claims that if the government were to block large bonuses at the RBS that it would damage the bank's ability to hold onto high performing staff.
Under new EU rules, the bank - which is largely government owned - must seek permission from shareholders if it wants to award bonuses greater than 100% of salary.
The Treasury say RBS have not made any requests regarding bonuses and payments to staff across the banking sector as a whole are down.
But Labour's Chris Leslie said it was "not acceptable at a time when there is a cost of living crisis and banks to be going beyond that 100% level at RBS - that's just wrong".
Tory MP Mark Garnier said bonuses were a "reward for enterprise" and he accused Labour of attempting to "destroy the one industry we have which is a net exporter of services".
He told Mr Leslie: "You are playing fast and loose with millions of people's jobs. You are playing fast and loose with the economy and it is just nonsense."