Failed IT scheme costs Army £6.7m, Hammond says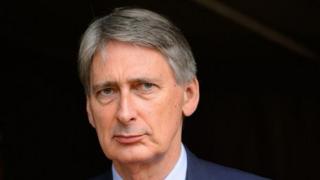 The Army has had to write off £6.7m on a failed online recruitment system, UK Defence Secretary Philip Hammond has told MPs.
It is costing taxpayers £1m a month to pay for staff to fill in while a replacement was developed, he added.
Labour said it was the latest in a line of "catastrophic" IT failures to hit the Ministry of Defence.
It is part of a £1.3bn project to streamline recruitment, which is almost two years behind schedule.
The Recruitment Partnering Project system, run by outsourcing firm Capita, will not be fully operational until "early next year".
Mr Hammond said the problems had been caused by a decision to modify the Army's existing online recruitment system, known as Atlas, rather than allowing Capita to build an entirely new one from scratch.
When the system hit problems last summer, the Army was forced to "put in place a number of workarounds and mitigation measures to the old IT platform to simplify the application process", said Mr Hammond.
It also brought in military personnel to enter details into the system manually.
But by October last year it was clear that this was not working and the decision was taken to scrap the Atlas system and start again.
Mr Hammond said the new system would cost taxpayers £47.7m - about £4.5m more than sticking with a modified version of the existing system.
In addition, £6.7m "will have to be written off", although this may increase when an audit has been carried out.
The cost of running an interim system, with additional staff and improvements such as a simplified application form, was about £1m a week, added Mr Hammond.
'Worse problems'
He admitted there were "big problems with the IT" but blamed the previous Labour government, which he said had signed the contract with Capita in 2008.
The government's solution, added Mr Hammond, "is judged to be the quickest way of eliminating that ongoing expenditure".
He also stressed that the IT problems would not affect the Army's current recruitment drive.
Labour's Shadow Defence Secretary Vernon Coaker accused Mr Hammond of deliberately playing down the scale of the problems in statements to the Commons last year, by describing them as "teething troubles".
Pointing to a report in The Times, he said: "The problems are even worse than anyone thought and have yet to be fixed."
He added: "The blame for the mess we are now in lies squarely with the government. We can't take risks with our armed forces. We can't gamble with our nation's safety and security and doesn't the defence secretary need to get a grip and sort this shambles out?"