MPs' portraits exhibit contrasting styles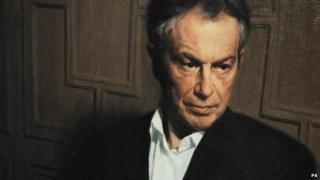 A committee of MPs has spent a total of £250,000 since 1995 commissioning portraits and statues of other MPs, according to figures obtained by the Evening Standard.
The Speaker's Advisory Committee on Works of Art says its guiding principle for selecting sitters for new works is "the notable contribution made by the sitter to Parliament and to parliamentary life".
Looking ahead, it also wants to increase the number of portraits commissioned of "notable women parliamentarians in order to recognise the changes in representation over the last decade".
But the seemingly cosy commissioning process can produce surprising results: the above 2008 portrait of Tony Blair depicts a downbeat and haggard former Labour PM against a wood-panelled backdrop that, in the hands of artist Phil Hale, seems to loom over him claustrophobically.
So what else has the Commons got in return for the cash? According to the Standard, the following small selection of works cost:
Nearly £12,000
Labour's Diane Abbott became the UK's first black female MP in 1987.
She is known as something of a left-wing maverick MP who rebelled against the Blair-Brown governments numerous times on issues from a third runway for Heathrow, renewing the UK's Trident nuclear submarine system, tuition fees and the war in Iraq.
After 23 years on the backbenches, she joined Ed Miliband's frontbench team in 2010, but left it again in a reshuffle three years later.
The above portrait, in which Ms Abbott gazes out at viewers questioningly, was painted in 2004 by Stuart Pearson Wright.
£11,750
Ex-PM the late Baroness Thatcher's contribution to political life was marked in 2007 with a statue by Antony Dufort and located in Member's Lobby, a prominent MPs' meeting place just outside the Commons chamber.
The three other towering former prime ministers whose statues enjoy similar prominence are Liberal David Lloyd George, Conservative Winston Churchill, and Labour's Clement Attlee.
Baroness Thatcher strikes a dominant pose, perhaps mid-speech, her characteristic bouffant hairstyle immortalised in bronze.
After years of rubbing her toes for good luck as they entered the Commons, MPs were warned that they were damaging the surface of the statue, and officials installed signs urging them to stop. Churchill's toe was similarly under threat.
£10,000
Iain Duncan Smith, or IDS as he is known in Westminster, entered the Commons in 1992, in Norman Tebbit's old seat of Chingford and Woodford Green.
As a Eurosceptic he rebelled over the infamous Maastricht treaty, knowingly risking his chances of promotion - but in fact his Euroscepticism helped him to win the party leadership in 2001.
But he was ousted as leader in a vote of no confidence by his own MPs in 2003, posing for a painting by Paul Benney the subsequent year.
IDS had described himself as "the quiet man... turning up the volume", but Benney said his subject had confounded expectations as "a passionate man and resolute in his commitment to the demands of political life".
In the frame, he appears to defy his critics, staring straight out at them with his hands on his hips, dominating a nondescript backdrop.
"I have made an attempt at capturing this resolve and strength of character," Benney continued, "but my portrait would not be entirely accurate without a hint of the damage sustained under fire."
Mr Duncan Smith entered government in 2010 and is currently work and pensions secretary.
£8,000
Baroness Boothroyd became the first female Speaker in 700 years of Commons history in 1992.
Although well-liked by MPs and seen as a firm but fair arbiter of the House's rules, she stood no nonsense in the chamber and frequently delivered stern dressings down to miscreants.
Before her eight-year stint as Speaker, she has been a Labour MP and now sits in the House of Lords as a crossbench peer.
Her second official portrait, above, painted in 1999 by Jane Bond, captures a relaxed pose, perhaps hinting at her proximity to retirement.
She is wearing elaborately golden-embroidered crimson garb, appearing at home amid the trappings of the Palace of Westminster as represented by ornate Puginesque fabrics and a finely crafted picture frame.
Her affection for the institution which dominated her career finds form in a Portcullis brooch.
A previous portrait, unveiled nearer the start of her tenure, pictured her in a more formal pose, donning the Speaker's ceremonial robes.
£8,000
Ardently pro-European amid increasing Euroscepticism, an opponent of ever-lengthening custodial sentences, and an outspoken critic of the Iraq war, Ken Clarke has never been afraid to differ from the Conservative leadership.
But his blunt-speaking style has long won him popularity - and recognition - with voters, and he continues to enjoy a seat in the cabinet as minister without portfolio.
Famed for his love of cigars, birdwatching, football, cricket, jazz and classic cars, Mr Clarke's breadth of interests outside of politics is brought into relief by the cluttered composition of his official portrait, which features an animal-themed collection of ornaments and a variety of portraits.
Painted by James Lloyd in 2007, the portrait devotes more canvas to the area behind Mr Clarke than ahead of him - perhaps a comment on an already impressive career featuring stints as home secretary and chancellor, and three thwarted leadership bids.
Yet as Mr Clarke gazes wistfully away from the viewer, seemingly towards a window on his left, Lloyd suggests there remains a bright future for the man who would become justice secretary three years later.
£2,000
Lord Ashdown, a former member of the Special Boat Squadron who is fluent in Mandarin Chinese, led the Liberal Democrats from 1988 to 1999, overseeing a period of growth in the party's fortunes.
The ex-MP's work ethic overflowed into a fitness regime which reportedly earned him the nickname "the demon of the Commons gym".
His 1995 portrait by Anthony Palliser portrays a wiry figure in shirtsleeves, casual attire contrasting with his shrewd, narrow-eyed expression and the puritanical formality of his surroundings.