Andrew Tyrie: I did not sign Conservative EU veto letter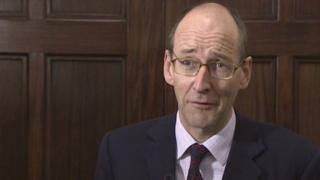 A Tory MP has said his name appeared on a Eurosceptic letter sent to David Cameron even though he never signed it.
Andrew Tyrie told the BBC he had seen a draft of the letter urging Parliament to have a national veto over EU laws but did not agree with all of it.
He claimed he knew of six other Tory MPs whose names wrongly appeared.
The BBC's Nick Robinson said those behind the letter suggested Tory whips were putting pressure on MPs to withdraw their support for it.
The letter claimed to have the support of 96 Conservative backbenchers, whose names were sent to Downing Street but were not made public.
'More names'
It urged the prime minister to hand the Commons the ability to block new EU legislation and repeal existing measures that threatened Britain's "national interests".
Ministers have dismissed the proposal as "unrealistic", saying it would make the single market unworkable.
Mr Tyrie, the chair of the Commons Treasury Committee, said he felt the letter was worthless without support from MPs from other parties.
Bernard Jenkin, the Conservative MP who drafted the letter, says he does not know how Mr Tyrie's name was wrongly attached to the letter.
"We cannot trace how his name got onto the list but we are, as we speak, adding other names," he said.
Media reports on Monday suggested other signatories to the letter included James Clappison, Conor Burns, John Baron, Anne Main and ex-defence minister Sir Gerald Howarth.
In the letter, they said the move would enable the government to "recover control over our borders, to lift EU burdens on business, to regain control over energy policy and to disapply the EU Charter of Fundamental Rights".
'Potty' idea
Mr Cameron has promised to renegotiate the terms of Britain's membership of the European Union and hold a referendum in 2017.
But many Conservative MPs want the prime minister to give more detail about exactly what changes he would like to see.
Speaking in the Commons, Tory MP Jacob Rees-Mogg said he believed the European Union "disapproved of democracy".
"They don't like that a bit because we might vote against them," he said.
The Lib Dems said the idea of a parliamentary veto over EU legislation was "potty".
"It is one that is not going to happen," Treasury Minister Danny Alexander said.
"I think that those backbenchers who keep putting forward these sorts of ideas should just come out and accept that what they really want is for Britain to leave the European Union, because that is the argument that they are actually making."