Labour needs more 'hard-hitting' policies says Campbell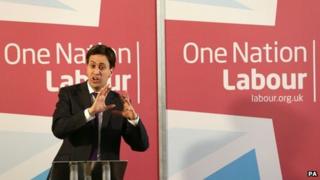 Ed Miliband is unlikely to win an outright majority in 2015 and needs more policies to back up his claim that Labour is a One Nation party, Alastair Campbell has said.
Tony Blair's former aide, who is now advising the Labour leader, said he expected a Labour-Lib Dem coalition after the next election.
He told the Fabian Review Labour needed at least four "hard-hitting" policies.
He suggested the case for state control of the railways "should be explored".
Mr Campbell, one of the architects of New Labour and No 10 Director of Communications between 1997 and 2003, was hired last year to work on Labour's general election campaign and presentation of its political message.
Although opinion polls currently suggest Labour may be on course to win the next election outright, critics of Mr Miliband's leadership have said the party should be further ahead and is still mistrusted on the economy.
'Not established'
Mr Campbell said he had anticipated a coalition after the last election and he expected the same outcome this time, albeit between different parties.
"I think it will be a Lab-Lib coalition," he said. "I was right in 2010. I knew it was going to be a Tory-Liberal coalition".
Shadow chancellor Ed Balls recently hinted he could work with Lib Dem leader Nick Clegg, comments interpreted as a thawing in relations between the two parties.
The Labour leader, Mr Campbell added, needed to add more substance if the party was to live up to its One Nation tag - a slogan first used by Mr Miliband at the 2012 party conference.
In addition to the party's pledge to freeze energy prices for 20 months if it wins the next election, Mr Campbell said Labour needed a clear policy "on the economy, a couple on public services and one about cultural space".
"One Nation is not established. It means to the public whatever the public wants it to mean," he said.
"One Nation Labour worked last year for Ed Miliband's speech but it wasn't followed through with hard-hitting policy.
Renationalising the railways was a policy that the public "can latch onto and should be explored further", he added.
"The fact that nationalising railways is even on the agenda now suggests we are living in a different age. Following the [economic] crash, a lot has changed."
Responding to the comments, Conservative Party chairman Grant Shapps said Labour had "no long-term plan for the country".
"They can only offer more of the same. More spending, more borrowing , more taxes and no amount of gimmicks will hide that," he said.