Nick Clegg backs 'eminently sensible' EU benefit changes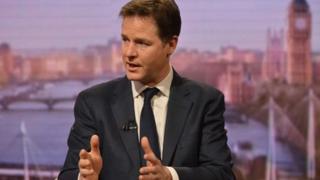 It is "sensible" to consider further curbs to the benefits EU migrants can claim, the deputy prime minister says.
It comes after Work and Pensions Secretary Iain Duncan Smith said he was talking to other EU governments about trying to restrict access to welfare.
Nick Clegg told BBC Radio 5 live it was right to insist migrants "jump through hoops" before claiming benefits.
A three-month ban on EU migrants claiming UK out-of-work benefits came into force earlier this month.
The ban came after restrictions on Bulgarians and Romanians working in the UK were eased at the beginning of the year, prompting the debate surrounding so-called benefit tourism to resurface.
'Committed to country'
Mr Duncan Smith said the UK, Italy, Germany, the Netherlands and Finland wanted to change EU law.
He told the Sunday Times there was "a growing groundswell of concern about the [immigration] issue" and Britain was "right in the middle of a large group of nations saying enough is enough".
He said he had been working with the other countries to bring pressure on Brussels to allow individual EU member countries to make their own rules stricter.
Mr Duncan Smith said the UK should require migrants to demonstrate they were "committed to the country" and they were "contributing".
"It could be a year, it could be two years, after that, then we will consider you a resident of the UK and be happy to pay you benefits," he said.
Sources close to Mr Duncan Smith stressed he was expressing an aspiration for the future rather than spelling out a policy.
Mr Clegg told Pienaar's Politics on BBC Radio 5 live: "That is eminently sensible to say that if we can come to an agreement that says you have to jump through certain hoops before you can claim benefits, having moved to a different European Union country, fine."
But he cautioned changes must be made in conjunction with other European states or there would be a "danger" of tit-for-tat changes made by other governments.
"The idea that somehow we can apply new criteria to Germans, Fins, Dutch, Austrians you name it, but somehow no new conditions would apply to Brits living in other European Union countries is fanciful," he said.
But he said he was not in favour of "pulling up the drawbridge, making us poorer, increasing joblessness and making us less relevant in the world by yanking us out of the European Union".
Labour is "in favour" of government efforts to work with other countries to curb benefits for EU migrants, said shadow work and pensions secretary Rachel Reeves.
"If they come up with concrete proposals that are workable, that are practical, that protects our social security system, that protects that principle that you have to pay something in before you get something out, we would support that," she told the Murnaghan programme on Sky News.
'Take back'
UKIP leader Nigel Farage has called for migrants to be barred from receiving benefits until they have been living in the UK for five years, while London Mayor Boris Johnson and Justice Secretary Chris Grayling suggested it should be two.
"There should be an assumption in the way our migration system works that before you move from one country to another, before you can start to take back from that country's social security system, you should have made a significant contribution," Mr Grayling told the BBC's Sunday Politics.
European commissioner Laszlo Andor insisted migrant workers were "net contributors" to the UK economy.
"They take out much less in the form of benefits or welfare services than what they contribute in the form of taxes or contributions to the system," the employment and social affairs commissioner told BBC Radio 4's The World this Weekend programme.
Economics professor Christian Dustmann said there was clear evidence about who was claiming more benefits.
"We have looked at the overall receipt of transfers and benefits, which of course include child benefit, housing benefit and other forms of benefits, and what we find is that migrants from EU countries are 33% less likely than UK natives to claim any form of benefits," he told BBC Radio 5 live.
Prof Dustmann said there was "very little concern that immigrants from EU countries are free-riding on the UK's welfare system".
Matthew Pollard, executive director of Migration Watch UK, a think tank that supports tighter immigration controls, accepted EU migrants claimed less than UK nationals in out-of-work benefits but said it was "still right for the government to restrict access".
"It goes against people's sense of fairness that the EU want an EU migrant to be treated in exactly the same way as a Brit when it comes to out-of-work benefits. This undermines confidence in the welfare system as well as the EU in general," he told 5 live.
Meanwhile, more than 90 Conservative MPs have written to David Cameron urging him to give Parliament a national veto over current and future EU laws.