Mandelson: Referendum 'a pistol to Europe's head'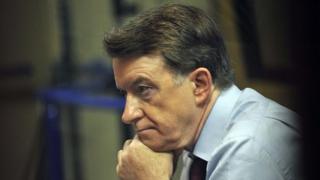 Lord Mandelson has said those pushing for an EU referendum in 2017 are "holding a pistol" to the head of other European countries.
The former Labour Cabinet minister said the UK should be seeking to reform the European Union rather than "grandstanding" about getting out, describing a referendum as a "lottery".
He accused the Conservatives of "playing to the UKIP gallery".
But Tory peer Lord Dobbs said the referendum was "about democracy".
Lord Dobbs, who is spearheading the referendum bill's passage through the Lords, said: "It's very revealing that Lord Mandelson describes democracy as a 'lottery' - he's showing a total lack of respect for the British people who won't forgive Labour and the Liberal Democrats if yet again they try to prevent a referendum on Europe.
"Labour and the Lib Dems are on the wrong side of this argument - the Conservatives are the only party who can and will give the British public the referendum they deserve and let Britain decide."
Lords debate
Last month, MPs backed calls for a vote on Europe after the next election.
A bill which would pave the way for a referendum in 2017, the first on the issue of Europe for more than 40 years, is now being debated in the House of Lords.
Its supporters, which include the whole of the Conservative Party and a minority of Labour MPs, hope it will be approved in the next few months although its passage through the Lords is uncertain amid attempts by Labour, Lib Dem and pro-European crossbench peers to derail it.
David Cameron has said the UK needs a better deal in Europe on a wide range of issues, including immigration and welfare policy, and that its membership needs to be substantially renegotiated prior to a public vote.
'Blunt instrument'
But Lord Mandelson, a former EU commissioner who is one of the most high-profile Europhiles in British politics, said EU membership was "fundamental to Britain's interests" and politicians should be "wary" about putting that in doubt.
"A referendum is a very blunt instrument to be handled with great care," he said.
"Because I think membership of the EU is absolutely fundamental to British interests and therefore we should be very wary of putting our membership in the hands of a lottery in which we have no idea what factors, completely unrelated to Europe, will affect the outcome of that lottery."
He told BBC Radio 4's Today programme the way for the UK to "gain allies" for its pro-reform case was through "quiet, patient and persistent" lobbying not "bellowing its demands" from the "sidelines".
"I don't think in Brussels, Berlin or Paris you are going to gain that audience or that support you need by holding a pistol to Europe's head, in which you are saying, 'Agree with us on everything we want or we are leaving.'
"I don't think that is the right way to win an essential argument for reform."
In what he said was a critical year for Europe, with elections to the European Parliament and new leadership within the European Commission, he said the UK should focus on building its influence.
'Lack of respect'
Instead, he said calls for a referendum would "diminish not enhance our ability to get much-needed reforms".
"Our priority this year should be to put our people in the most important posts... not standing on the periphery of Europe and grandstanding to that UKIP gallery which preoccupies so many in the Conservative Party."
While not ruling out a referendum in "any circumstances", he said he backed Ed Miliband's position that now was not the right time for the issue to be raised.
The Conservatives said Lord Mandelson was showing a "lack of respect" for the British public and Labour were on "the wrong side of the argument".
And The UK Independence Party, which has led calls for the UK to pull out of the European Union, said Lord Mandelson was "completely wrong".
"How can David Cameron talk tough in Brussels when at the same time he is saying that he will do anything to keep the UK in the EU?" its leader Nigel Farage said.