Foreign Office being stretched to near limit, say MPs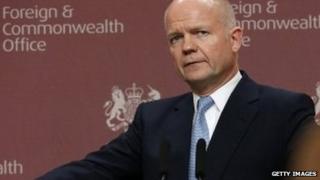 The Foreign and Commonwealth Office is "being stretched, almost to the limit" and a "more realistic approach" is needed to the way it is run during a period of spending cuts, MPs say.
The department has been asked to cut its UK-based staff by 10% by 2015.
But the Foreign Affairs Committee says an extra year will be needed to reach this target and is raising concerns the FCO "may be trying to do too much".
Ministers say savings are needed for the country to live within its means.
In its review of the FCO's performance and finances in 2012-13, the committee was told a planned 10% cut in the number of UK-based staff at the FCO would not be met by the original target of 2015, but would instead require an extra year.
It heard the FCO was on course to make savings totalling approximately £170m over the Spending Review period to 2014-15 but warned of the effect on the department.
The committee's report said: "There are signs that the FCO is being stretched, almost to the limit. One of the symptoms is the prospect that the department will need an extra year to meet its target of a 10% headcount reduction in UK-based staff, largely because of 'sustained pressure to deliver an ambitious policy agenda'.
"We believe the department may be in danger of trying to do too much at a time when capacity is being limited. A more realistic approach by the department and by ministers is needed, as well as a clearer definition of priorities."
The MPs said that "on top of the day-to-day business of sustaining a foreign policy at a time of particular turbulence in the Middle East and elsewhere", the FCO had had to meet the demands of the 2012 Olympic and Paralympic Games, the expansion of the network of diplomatic outposts and an increased emphasis on commercial work.
They said: "We conclude that in future the department will need to attach greater importance to living within its means and will need to recognise that there are limits to what it can take on."
The committee's chairman, Conservative MP Sir Richard Ottaway, said: "We're sounding a warning. We have no problem with an active and ambitious foreign policy. But we're getting a distinct impression that the FCO may be trying to do too much when capacity is limited by a tough spending review settlement."
He added: "What we're saying is: be realistic, live within your means, and make sure that priorities are clearly defined."
The FCO has not yet commented on the committee's report.