Ed Balls hints at possible coalition with Nick Clegg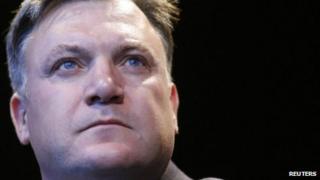 Labour's Ed Balls has indicated he might be willing to work with Liberal Democrat leader Nick Clegg in coalition, saying he has "no reason to doubt his integrity".
The shadow chancellor has previously said it would be "difficult" to reach a deal with a party led by Mr Clegg in the event of a hung Parliament in 2015.
But he told the New Statesman they had recently had a "friendly chat".
Parties had to "deal with politics as you find it", Mr Balls said.
In response to the interview, Mr Clegg tweeted "Ed Balls" - a humorous reference to the shadow chancellor's 2011 error when he tweeted only his own name while he was searching for twitter messages about himself.
'Agree with Nick'
The shadow chancellor then responded by tweeting "I agree with Nick", a reference to the 2010 election debates when both David Cameron and Gordon Brown took it in turns to praise the Lib Dem leader.
The exchanges are being interpreted as evidence of an improvement in relations between the two men, which have been strained in recent years.
The shadow chancellor is frequently seen in the House of Commons arguing with leading members of the coalition government.
He has persistently criticised the spending cuts programme, arguing that it has slowed economic growth.
Ministers have accused Mr Balls, a supporter of former Prime Minister Gordon Brown, of being complacent about the budget deficit and say his policies would increase public debt.
In 2011, Conservative Prime Minister David Cameron called him "the most annoying person in modern politics".
In an interview last year, Mr Clegg said he liked to avoid making political rivalries personal, but added that he "made an exception" for Mr Balls.
And in 2012, Mr Balls said that, if no party won an overall majority at the next election, Mr Clegg's actions since entering government would make it "very difficult" for Labour to work with the Lib Dems if he remained party leader.
In his New Statesman interview, he repeated his criticism of Mr Clegg for backing the government's austerity measures.
'Friendly and warm'
But he also struck a more emollient tone, saying: "I had a friendly chat with him a couple of hours ago in the House of Commons.
"I'm not saying where, but the kind of place people pass in the House of Commons. We had a nice chat about how things were going. I think it was the first time I'd had a conversation with him for a really long time.
"I can say, with my hand on heart, the only conversation I've had with Nick Clegg in the last 18 months was very friendly and warm.
"I may disagree with some of the things he has supported but I have no reason to say anything nasty about him as a person."
At the last election, no party won an overall majority and the biggest party - the Conservatives - formed a coalition with the third-placed Lib Dems after several days of discussions.
Mr Balls added: "I understand totally why Nick Clegg made the decision that he made to go into coalition with the Conservatives at the time. I may not have liked it at the time, but I understood it."
Asked whether he would be prepared to enter coalition with Mr Clegg, he told the New Statesman: "I think what you always have to do is deal with politics as you find it.
"I saw that subsequently he made a further statement to one of the newspapers that these things weren't about personalities, and I think he's right about that."