Name public buildings to sell, public asked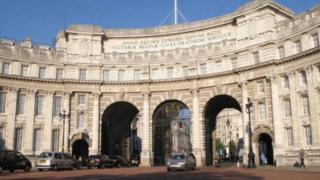 The government is asking the public to put forward the names of empty or under-used publicly owned buildings they want to see sold off or converted.
The "right to contest" allows people to suggest "surplus" sites in an effort to save money.
Treasury minister Danny Alexander said government should rid itself of costly, unneeded property and not "act as some kind of compulsive hoarder".
The government owns more than £330bn of land and property.
The Cabinet Office will shortly launch a what it calls a "Rightmove-style" search engine, allowing people to check what is included in the portfolio.
'Fair price'
Under previous rules, members of the public only had the right to challenge local authorities where land or property was empty or under-used.
This is being extended to that owned by central government.
Applications will go before a committee of ministers from the Treasury, the Cabinet Office and the department holding the property.
Mr Alexander said: "The government is the custodian of the taxpayers' assets. We certainly should not act as some kind of compulsive hoarder of land and property that could be better used for things like housing and local economic growth."
Property would be sold "back to the community and local businesses at a fair price", he added.
Cabinet Office Minister Francis Maude said: "To help the country live within its means we need to use every bit of property we own effectively."
He added: "Of course we will never sell our national treasures such as Downing Street or the British Museum, but there are hundreds of other properties across the country which are under-used or lying vacant.
"Hard-working taxpayers expect us to save money like this and that's just what we are determined to do."
According to the government, independent estimates suggest the public sector holds up to 40% of developable land and about 27% of brown-field land suitable for housing.