Francis Maude denies IT row with Iain Duncan Smith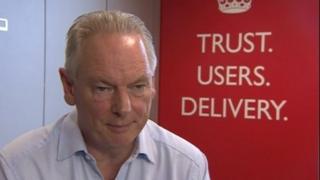 Cabinet Office minister Francis Maude has denied falling out with Iain Duncan Smith over the government's flagship universal credit scheme.
According to the The Guardian, friction between the two men is causing "high level" risk to the programme.
Leaked documents suggest Mr Maude pulled a team of Cabinet Office IT experts out early after disagreements.
Mr Maude said he was "surprised to hear anyone say that" and it had always been part of the plan to withdraw the team.
"We don't comment on leaked documents but I don't recognise what is described," he told BBC News.
Universal Credit will consolidate six working-age benefits into a single payment - a process designed to encourage incentives for work and to reduce fraud which the Department for Work and Pensions (DWP) say will bring £38bn in long-term benefits.
But it has been beset by IT problems, with £40m of expenditure on new systems already written off.
Just before Christmas, Mr Duncan Smith confirmed that 700,000 people will not be moved onto the new system, as planned, by the end of 2017.
Mr Maude said it was normal for the Government Digital Service - an elite team of IT experts and civil servants - to go into departments for a limited period of time to help build new systems.
"The Cabinet Office had very little involvement with it until a year ago and we were asked to provide resource and support by Iain Duncan Smith but that was always on an interim basis."
He added: "In the space of three months, a digital team, mostly people from DWP, produced a working prototype of what everyone agrees is the long-term strategic answer, a digital application and that's continuing to be developed now."
According to The Guardian, Mr Maude and his team fell out with Mr Duncan Smith over his insistence on carrying on with development of the existing system, which relies on job centre staff to help claimants, alongside the new digital system.
The paper said this "twin-track" approach was being pursued so that Universal Credit could be shown to be working before the 2015 general election.
But a leaked document suggested the rapid withdrawal of Mr Maude's team of experts was now the biggest problems facing the project, because the DWP did not have enough in-house expertise to deliver the programme.
Asked if this was the case, Mr Maude said: "The transition has been agreed by DWP's digital leader. It has been specifically agreed with the head of the Government Digital Service so that's not a view that I recognise."
He said the problems with Universal Credit had been "well chronicled" but it was an "excellent policy" and his IT team would continue to offer support and help with recruitment to the DWP.
But Labour claims the DWP will have to spend more money on hiring new IT experts and this will lead to further delays in the project.
Shadow minister without portfolio Jonathan Ashworth has written to Mr Maude to ask him for further details on the withdrawal of Government Digital Service staff.