Minimum wage set to become pre-election battleground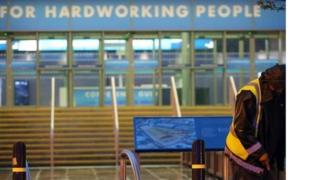 When the minimum wage was introduced by Labour in 1999, the Conservatives opposed it and suggested it could cost jobs.
Their position subsequently changed, but a group of Conservative MPs - some on the right of the party - believe that "grudging support" for the measure doesn't strike the right tone for a party which claims to be on the side of hard working families.
Some are urging the prime minister to make a speech setting out why his party had been wrong not to introduce it themselves in order to "kill off a negative".
They see parallels with David Cameron's backing for the NHS, another Labour creation, before the last election.
The then opposition leader stated he could sum up his political priorities in three letters - N.H.S - and then attempted to steal a march on Labour by pledging to increase the health budget.
Past errors
These Conservative backbenchers want to see a similar approach to helping the low paid - a "clear the way" speech recognising past errors, followed by an above-inflation increase in minimum wage rates.
And now more influential figures are making their voices heard.
Sources close to the Work and Pensions Secretary Iain Duncan Smith suggest he is in favour of a significant increase - partly because, with the chancellor keen to make further welfare savings, the higher the minimum wage then the lower the expenditure on tax credits to top up low incomes.
The business minister Matt Hancock - a former adviser to George Osborne - previously agreed to an increase in the lower apprentice rate, and is likely to favour an across the board increase now.
Another minister close to the Chancellor, Sajid Javid, told the BBC on Wednesday that the minimum wage "is about 10% lower in real terms, I think, than where it was in 2008" and there was a "a strong case to look at it".
And indeed it is already being examined.
Review
Last September, the business secretary Vince Cable asked the Low Pay Commission - which recommends minimum wage rates - to look at what economic conditions would be needed for a higher than usual rise.
The Commission will report to him - and to David Cameron and Nick Clegg - by the end of next month.
It is well known that Mr Cable wants to see the minimum wage rise as the economy recovers.
However, sources close to the business secretary are making it clear that he has no intention of agreeing to a pre-election inflation-busting boost, unless specifically recommended by the experts, and not simply by fellow politicians.
He is far more likely to accept whatever the Commission recommends and doesn't believe the Chancellor will try to over-rule him.
That's not to say that the Conservatives couldn't pledge a much bigger increase in their next manifesto.
Political ground
But the Lib Dems see the current debate amongst their coalition partners as an attempt to move on to their ground, having alienated more moderate support over Europe and immigration, and aren't minded to help them out just yet.
But some Conservatives say there is a way of appealing to those on low incomes without over-ruling the Low Pay Commission if it opts for a modest rise this year.
These MPs are pressing the Treasury to look at the net - rather than gross pay - of those on the minimum wage.
From April the first £10,000 of income will be tax free but workers begin paying national insurance - which to many, feels like a tax - at the lower income of £7,775.
By raising the national insurance threshold to £10,000 too by the time of the election the Conservatives would be able to say that all those on the minimum wage were better off. That of course would cost, not save, money.
'Top-up'
But there are calls, too, for a minimum wage "top up" in areas of high costs and higher average earnings paid for by employers, not government.
Labour politicians have also talked of backing a significant rise in the minimum wage, but without specific figures and having a higher "minimum" in some sectors of the economy.
But their main thrust is likely to be on pressing companies to pay a higher "living wage" - currently £7.65 an hour, rather than the minimum adult hourly rate of £6.31.
A future Labour government would be likely to insist that private employers which benefit from public sector contracts pay their employees this higher figure, or above.
Some Conservative strategists believe Labour would be on the back foot if the current government backed a significant increase for the low-paid.
For their part, Labour strategists believe the debate demonstrates that David Cameron is being forced to fight on their territory - that is, he's battling over the cost of living and not the improving state of the economy.