Will Miliband's new approach to weekly clash last the course?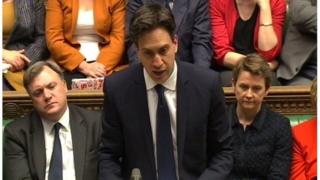 The first Prime Minister's Questions of the year was a rather muted affair.
Tributes were paid to the Labour MP Paul Goggins who had died early on Wednesday following a stroke.
Condolences were paid to the families of those killed in Tuesday's helicopter crash, and that of the captain serving in Afghanistan who lost his life.
But it was muted for another reason that had nothing to do with the content.
It is - I am told - a deliberate attempt by Ed Miliband to end the shouty-shouty approach to the weekly session which he knows the public hate.
Now it's as much a rite of passage for a party leader to say they hate adversarial politics as the swearing of an oath of allegiance is to the new MP.
'Punch and Judy'
David Cameron famously declared he was "fed up with the Punch and Judy politics of Westminster"- the name calling, backbiting, point-scoring and finger-pointing.
Three years later, he accepted that it hadn't worked, telling the BBC "I would absolutely hold up my hands and say it was a promise I haven't been able to deliver".
So why would Ed Miliband chose three and a half years into his tenure to broach the same ground?
Today I was told the "sombre and serious tone" was being "tried out" - on merit and will depend on how it is received by David Cameron.
There has been no mutual agreement, there has been no time scale set - they're playing it by ear to "see how it goes".
Ed Miliband has - I understand - wanted to do this for some time, but the combination of the New Year and the poor tone at the end of last year has spurred him on.
The public might thank him for this - if it collectively even notices. But the press gallery probably wont.
Testosterone-fuelled
Some of our finest material - indeed most oft-cited quotes - have come as a direct result of the testosterone-fuelled vengeance of PMQs.
Gordon Brown was reduced from Stalin to Mr Bean by Vince Cable - an image that became increasingly hard to shift.
Then there was Tony Blair's "weak weak weak" taunt of John Major - the crumpling of a leader before our eyes.
And then it was the turn of Blair himself - perhaps the most coruscating of them all - as David Cameron shouted "this approach is stuck in the past, I want to talk about the future - he was the future once".
Of course - there are limits to what a party leader can achieve on his own.
The shadow front bench have not been told to rein it in - no "pager instructions" on how and when to end the hand signals.
Which begs the question - and let's be honest it's a big question and one that can sometime get rather red in the face - Ed Miliband may want to mind his ps and qs - but will the other Ed play Balls?