Cameron seeks to allay Polish benefit concerns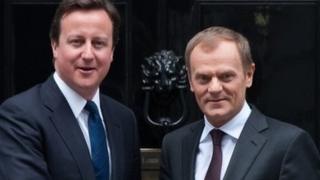 David Cameron and his Polish counterpart Donald Tusk have sought to smooth relations amid a dispute over benefit payments to EU migrants.
The two leaders had a 40-minute phone call in the wake of a row over Mr Cameron's call for migrants working in the UK to lose their child benefit.
No 10 said the prime minister made it clear it was an issue for all EU states and he was not singling Poland out.
But Poland's foreign minister said recent UK language was "unacceptable".
EU citizens working in the UK are currently able to claim child benefit, even if their children live abroad.
Mr Cameron says this is unsustainable and migrants should not be motivated to come to the UK by higher benefits payments.
On Sunday, he told the BBC that he would try to renegotiate the UK's membership with the EU to allow it to withhold child benefit in these circumstances, mentioning Poles living in the UK as he made the case for change.
'Contribute double'
Polish ministers reacted angrily to the comments. Writing on Twitter, foreign minister Radoslaw Sikorski said: "If Britain gets our taxpayers, shouldn't it also pay their benefits?"
Mr Tusk has said he would block any moves by the UK to overhaul EU benefit rules that "stigmatise any particular national minority".
During Wednesday's call, which Warsaw said it had initiated and which also covered other matters, No 10 said Mr Cameron explained that it was in the interest of all EU member states to engage with the issue of welfare reforms.
"On EU free movement, the prime minister made clear...that we need to address the impact on countries' benefits systems, including for example paying child benefit to families living abroad," No 10 said.
"The PM emphasised that this was a pan-EU issue relevant to all member states and people should engage with the substance of the PM's proposals."
Downing Street said the two leaders agreed to hold further bilateral discussions "on how the UK and Poland can work together to better manage the impact of intra-EU migration on social security systems".
Polish Europe Minister Piotr Serafin was quoted by the state news agency PAP as saying that Mr Cameron had insisted "it was not his intention to stigmatize Poles who work in the British Isles".
But he added: "Prime Minister Tusk in response pointed out that regardless of the intentions, we cannot accept the tone and the effects these kind of statements cause".