Turkeys and turncoats - a festive tale to chill a politician's heart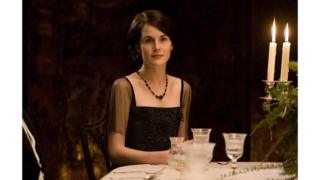 Opinion polls are one thing. But for a real snapshot of what people think about our political leaders, the BBC's Becky Milligan tried a little experiment...
"What do you think of David Cameron?"
The question came with the pudding. A gooey chocolate confection. Wine and Guinness had been drunk.
At the table sat all ages, of different political persuasions, male, female, students, entrepreneurs, potters and a former CEO of a global company.
Up until now we'd not strayed onto the subject of politics. Christmas does this.
'Tongue-tied'
We'd avoided tantrums, napkins being thrown down on the table in challenge, no storming out in disgust to watch Game of Thrones or Downton Abbey.
"What do you think of him, our prime minister?" I asked.
"I can't vote for him, he's so flimsy," came the reply.
"But you're a Conservative,"
"He's no leader." His laugh wasn't sneering but hallow.
On my other side was a Labour supporter. "What about Ed?" I ventured.
He pointed at his mouth. "Is it his tongue? Is his tongue too big for his mouth? I mean it could suffocate him."
I laughed. He didn't, this was no joke. "You simply can't have a prime minister with an oversized tongue."
'Betrayal'
There were Liberal Democrats too. Some had left the table to watch Downton Abbey or Game of Thrones. The one who remained spoke on their behalf.
"I, we, they, will never vote for him again after the betrayal".
This was not only about student loans but something far more personal.
"I, we, they, can never trust Clegg again, he is… untrustworthy". It was "Clegg" now. No Nick.
"You all feel like this?" I asked. "He is pathetic."
And so I offered them Nigel Farage, the UKIP leader. Do you like him? Would you vote for him? Is he your alternative?
"He terrifies me" said one. "He is, at least, entertaining," says another,
"I would rather vomit in my own mouth". This said with such a passion it nearly blew me off my chair.
Voting intentions
There was no embarrassing fall-out among family and friends. Politics hadn't revived ancient tribal loyalties which led to year-long silences.
Quite the opposite; a consensus, they agreed that they had no idea which way to vote, if they voted at all.
I suggested that perhaps their decision would be made on policy rather than personality. I had in the back of my mind a conversation with a former minister about their leader.
I'd asked if it was more about policy or personality. I was greeted with hysterical giggles not unlike Inspector Dreyfus in the Pink Panther films.
After a moment of silence one of my fellow diners said, "Perhaps, but if you can't lead, if you don't look the part, I mean what is the point if you can't deliver the message. I want to be inspired."
'Let battle commence'
Watching Downton Abbey Lady Mary Crawley said to one of her numerous suitors "may the battle commence".
She was talking of the men competing for her aristocratic hand in marriage.
Another battle has been in holding position. But now there is just over a year to go before the general election and the parties have begun sharpening their swords, preparing to bayonet their opponents and each other.
To be honest I have no idea which way the voters around the table will go and I'm not suggesting this as anything but anecdotal, but the political parties will be seeking to impress the likes of them and win their hearts.
Will it be the sedate, polite battle for Lady Mary's hand, or the graphic blood-letting and axe swinging battles in Game of Thrones?
Will there be scenes in the coming year which we will be forced to watch through our fingers while screaming?
The people around my table hoped for one and secretly prayed for the other.