MPs question 'ad hoc' foreign aid decisions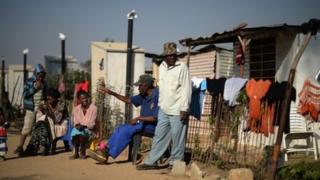 MPs have questioned the "ad hoc" way in which the UK is curtailing foreign aid to South Africa and India, suggesting the decisions may have been influenced by "short-term political pressures".
The UK is winding up the majority of its bilateral financial support for the two countries by 2015.
The International Development Committee said it was concerned decisions were "neither methodical nor transparent".
Ministers are under pressure from Tory MPs to trim the £11bn aid budget.
But David Cameron has insisted the UK will honour its commitment to spend 0.7% of its national income on foreign aid despite cuts in other budgets.
In March 2011, the government said it would phase out direct financial support for 15 countries by 2016, including China, Russia and Iraq, following a root-and-branch review of its bilateral and multilateral aid commitments.
At the time, international development secretary Andrew Mitchell said the UK would in future "concentrate our resources and impact" on 27 others.
However, 18 months later, his successor Justine Greening said the £200m financial aid programme in India would be phased out by 2015, when the UK's focus would shift to offering technical assistance.
And last May, she said direct aid to South Africa - currently worth £19m a year - would cease by 2015 as the two countries focused on building trade.
The South African government was critical of the decision, claiming it had not been consulted and suggesting it had been used as "political tool" to demonstrate the UK's commitment to spending restraint.
Timing
Although not commenting on the logic of the two decisions, the cross-party Commons committee said it was concerned the decisions were not taken "in accordance with the principles and process" established by the 2011 review.
It noted the concern in South Africa about the impact the decision would have on funding for HIV and other health programmes.
"Decisions to end a bilateral programme or to start a new one should be made only following a bilateral aid review, except in exceptional cases," Malcolm Bruce, the Lib Dem MP who chairs the committee said.
"We believe there is a rationale for funding bilateral programmes in some middle income countries while ending them in others," he added.
But he said the committee had reservations about the timing of recent announcements and concerns "that they are neither methodical nor transparent but related to short-term political pressures".
Poverty levels
David Cameron has constantly defended the decision to protect the international aid budget from spending cuts elsewhere across government, citing both hard-headed economic reasons and the moral case for helping the poorest.
Efforts to alleviate poverty and provide greater economic opportunities are central to preventing instability and tackling extremism, he has argued.
The UK has increased its support for Pakistan, Afghanistan, Yemen, Somalia and Ethiopia among others.
Giving evidence to the committee last year, Ms Greening said the government's processes were "robust" and underpinned by a "common approach".
Support was directed where it could make the "most difference", she stressed, based on analysis of levels of extreme poverty as well as an assessment of a country's growth prospects and capacity to raise its own living standards.
A Department for International Development spokesman said: "The decisions to close our aid programmes in South Africa and India are right and the committee does not disagree with this.
"These decisions clearly follow on from the government's own aid review published in 2011 which identified both countries as on the path to transition.
"As countries successfully develop DFID will continue to ensure that our aid remains targeted on the poorest countries where support is most needed."