Eviction threat for riot offenders 'excessive'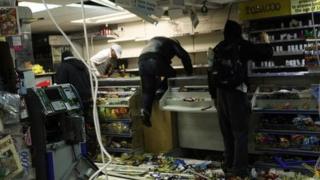 Ministers are being urged to abandon plans to give courts new powers to order the eviction of people convicted of anti-social behaviour during riots.
The government says the sanction, being considered by Parliament, would only be used exceptionally but would send a "strong signal" to potential offenders.
But the Joint Human Rights Committee of MPs and peers said it would be a punishment not a deterrent.
It also warned about a "serious" impact on children and other dependents.
The proposal is included in the Anti-Social Behaviour, Crime and Policing Bill - approved in principle by MPs and now being scrutinised by peers.
The legislation would make tenants in England liable for eviction if they are convicted of serious offences in the property or its vicinity, breach criminal behaviour orders or noise abatement laws.
Tenants in council houses, social housing and private residences convicted of "an offence which took place during, and at the scene of, a riot" anywhere in the UK would also face potential eviction, as would their fellow householders.
'Deterrent effect'
At the moment, landlords can seek eviction orders for those involved in disturbances in their local area but not elsewhere in the UK.
The legislation would extend the powers available to courts to deal with anyone who travels from one city to another to take part in disorder.
Courts could only act if they decided the grounds for eviction were "reasonable", if cases were brought to them within 12 months of a conviction and if the landlords clearly stated the grounds on which they were seeking the expulsion.
The cross-party committee of MPs and peers first raised concerns about the idea earlier this year but said ministers had apparently "not reflected" on the doubts it and others had expressed and seemed determined to press ahead.
It said jail sentences imposed on offenders for riot-related offences should be a "sufficient deterrent" and that the added threat of eviction was excessive.
"In our view, it is the job of the criminal law, not the civil law, to deter riot-related offences and to administer sanctions when such offences are committed," it said.
'Double punishment'
The government says the new sanctions will cause potential offenders to think twice about their actions.
Judges, it insists, will be able to take into account the impact on other family members, including children, when deciding whether to grant a possession order but the committee said it was not satisfied with such safeguards.
"We are concerned about its potentially serious and disproportionate impact on family members, including women and children," it added.
"Given the government's emphasis on deterrence as the rationale for the measure, it seems clear to us that it amounts to a punishment rather than a means of preventing harm to others."
Speaking in the aftermath of the August 2011 riots, David Cameron said those involved in looting "should lose" their right to housing at a subsidised rate, arguing that existing attitudes to disorder were "too soft".
But civil liberties campaigners say the proposals amount to "double punishment for the poor" and risk pushing people into "homelessness and destitution".
Council agreements
They cite the case of a mother of a teenage boy jailed for looting during the riots who staved off the threat of eviction from her south London council flat last year after giving assurances about her family's future behaviour.
Pressure group Liberty said the case - in which it claims the culprit no longer lived at home and his mother had a track record of community service - showed the danger of eviction orders being used in a "kneejerk and blunt" manner.
Wandsworth Council says its tenants have to sign a binding agreement that neither they nor any of their household members will engage in criminal or anti-social behaviour anywhere in the borough.
Those doing so, or behaving in a way which causes "fear, harassment or nuisance" to other people living in the area face potential eviction.
The council says a court agreed this summer to evict a man from his flat in the borough after he was sent to prison for three years for burglary during the riots.
After the 2011 disturbances, there were calls for those convicted of riot-related offences to be stripped of all their benefits.
A public petition calling for action secured more than 100,000 signatures but ministers said it would be difficult to enforce.