Vicky Pryce 'not ruling out' bid to become an MP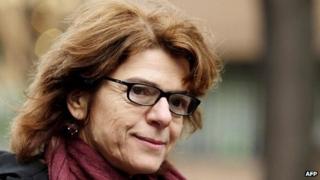 Vicky Pryce has said she has not ruled out standing to be an MP but acknowledged "no one might want her" after her conviction last year.
Pryce, who was jailed for perverting the course of justice over a speeding offence, said she was now focused on "building her career".
But the economist said she would not rule out running for Parliament, adding she had friends in all parties.
Her former husband Chris Huhne has said his political career is over.
Both were sentenced to eight months in prison, each serving two months in jail.
'Lot to do'
Pryce was found guilty of accepting speeding points on the former cabinet minister's behalf to help him escape a driving ban in 2003.
Pryce claimed Huhne, who admitted unlawfully swapping points, had forced her to take the points over the incident.
Before her conviction, it was mooted that Pryce - a former chief economist at the Department for Business, Innovation and Skills - might seek to become an MP in her own right.
Asked during an interview with Total Politics magazine whether she still harboured this ambition, she said: "I've had rather a lot of things to do, and there are a lot of things happening, so I'm giving it a rest for the moment.
"I'm concentrating on books and building my career, and then I'll think about it."
She added: "It's entirely possible that no one would want me, so there's no point in worrying about that now."
Pryce said she backed the idea of quotas for female MPs, suggesting other attempts to increase the number of women in Parliament had failed.
"As a good economist, you may think that it's good in one area and not good in another, but this is one example where there may well be a market failure, and you may want to intervene," she said.
"There should be quotas. It's the only way it's ever going to get solved. There's a huge amount of talent that's missing,"