Storms: Drivers and passengers need better data - MPs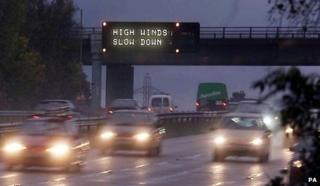 Better real-time information should be provided to rail and air passengers and drivers when bad weather strikes the transport system, MPs say.
The transport committee said it was "vital" information was provided which was up-to-date and broken down to specific areas and services.
Chairman Louise Ellman also said more action was needed to clear pavements of ice and snow in future.
Rail firms said they were reviewing how they communicate during disruptions.
In its report, the cross-party committee said regulators must also seek to avoid a repeat of last week's problems at Gatwick.
Thousands of passengers were stranded at the airport, which is south of London, as a result of a power cut during the stormy weather.
Mrs Ellman said: "The Civil Aviation Authority must get to the bottom of what went wrong and how airports across the country can avoid similar situations in the future."
In a wide-ranging report the committee said that transport problems had a direct impact not just on passengers and drivers but on the economy as a whole.
Since its previous report a national "salt reserve" had been created to avoid any future shortages for use on treating roads, the committee said.
But a national advertising campaign was needed to alert residents to the right to clear snow and ice from pavements outside their homes without fear of being sued by anyone slipping over.
The report quotes evidence given by Living Streets, a charity "that stands up for pedestrians", that councils "could do more to help organise teams of volunteer snow wardens".
During the course of their inquiry the committee heard that weather forecasts had played a key role in preparing for bad weather - most notably with the pre-emptive cancellation of train and air services during the St Jude storm at the end of October.
But Mrs Ellman said "it is vital that passengers receive up-to-date information of changes and disruption wherever possible", including airports and rail operators clearly signalling how long delays might last.
Drivers should also get better details before and during bad weather, with the MPs urging the Highways Agency to "identify technological and other solutions" to provide "comprehensive real time information to drivers... across the strategic road network".
'Taken by surprise'
The committee report quotes evidence given by the Institute of Advanced Motorists that information is "not yet tailored to the individual needs of drivers".
"Blanket warnings about 'essential' journeys are of little value without a full definition of 'essential'."
Mrs Ellman said: "Transport is vital to economic growth and while we recognise that some progress has been made by the government and transport to improve public information and passenger welfare during severe weather... we believe there remains considerable scope for further improvement.
"It is vital that the UK is ready and waiting for adverse weather and not taken by surprise."
The Rail Delivery Group, which speaks on behalf of train operators and Network Rail, welcomed recognition of the "significant improvements" made by the industry in how it kept travellers informed when services were cancelled or delayed.
"The rail industry is already carrying out a review of the code of practice on how we communicate with passengers during disruption," a spokesman said.
"It will listen carefully to any proposals to improve further the service we offer to travellers."