Cameron to Scots: We want you to stay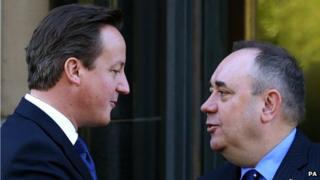 Prime Minister David Cameron has told Scots "we want you to stay", as the UK enters the year in which Scotland will vote on independence.
He used his New Year message to stress the importance of the 18 September vote, which "matters to all of us".
"This year, let the message go out from England, Wales and Northern Ireland to everyone in Scotland," he said, "We want you to stay."
He also pledged to make the economy work for "people who work hard".
This was not a vote for the next few years but a vote that could change our country forever, the prime minister said, describing it as the biggest decision Scotland has ever been asked to make.
Scotland First Minister Alex Salmond had given the opposite view in his New Year message, saying a "Yes" vote would ease a generation of mothers back to work through universal childcare, making Scotland the best country in the world to raise families.
Mr Cameron began his message by saying the UK economy had turned a corner and the government would not only stick to its economic plan but redouble its efforts to deliver every part of it.
"We're going to keep on doing everything possible to help hard-working people feel financially secure, cutting income taxes and freezing fuel duty."
"We've already capped welfare and cut immigration and, this year, we'll carry on building an economy for people who work hard and play by the rules.
"And last but not least, we're going to keep on delivering the best schools and skills for our children and young people so that when they leave education they have a real chance to get on in life."
Deputy Prime Minister Nick Clegg gave a pro-EU new year message while Labour leader Ed Miliband said in his that his party had a "credible and affordable" plan to help families struggling with the cost of living,