UKIP says it has signed up 13,000 new members in 2013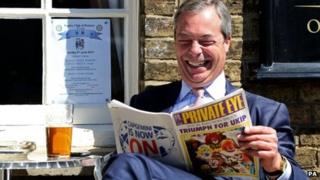 The UK Independence Party says a record year of growth has taken its membership above 30,000 for the first time.
The party, which campaigns for the UK to leave the European Union, said numbers had increased by more than 13,000 to about 32,500 in 2013.
Its leader Nigel Farage said UKIP was appealing to people who had never joined a party before, many of whom had "given up on politics altogether".
In contrast, the Conservatives have seen their membership levels fall.
While Labour has increased its membership in the past three years, totals are still well below where they were in 2001 - while Lib Dem membership fell sharply between 2010 and 2012.
'Challenging establishment'
UKIP said 2013 had been its best ever year in terms of new members, with the party recruiting an extra 2,500 in May alone when it won nearly 150 council seats in England in local authority elections.
The party, which has no MPs but came second in the Eastleigh by-election earlier this year, has said it is hoping to win more votes than any other party in next year's European elections.
Mr Farage said UKIP had succeeded in "re-engaging many people who had given up on politics altogether".
"Many of our members are those who have never been a member of any political party before but who see that it is UKIP who is challenging the establishment on issues such as open door immigration, grammar schools and green taxes," he said.
Party membership has historically been regarded as an important barometer of the health of democracy, while a strong activist base is important to help candidates campaign in elections.
Although memberships fluctuate in line with parties' political fortunes, recent decades have seen a general decline in people willing to join parties, with more people preferring to get involved with individual issues and campaigns.
Earlier this year, it emerged that the Conservatives' constituency membership had nearly halved since David Cameron became leader in 2005. Numbers have fallen to 134,000 from the 253,600 who voted in the leadership election. In 2001 the party had 300,000 members.
In 2012, Labour had 187,537 members while the Lib Dems had 42,501.