Iraq Inquiry: 'Progress made' over access to key documents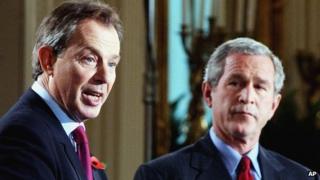 Progress is said to have been made in talks over the declassification of vital papers relating to the UK's involvement in the Iraq war.
The Chilcot Inquiry said last month it could not proceed further since key material, including notes between the then PM Tony Blair and US President George W Bush, had yet to be released.
But discussions since then have been more productive, the BBC understands.
The inquiry could now publish its report before the end of 2014.
The inquiry, chaired by Sir John Chilcot and which began in 2009, had hoped to have begun contacting those likely to be criticised in its report to allow them to respond - an important stepping stone to its final publication.
But this process has been held up pending discussions over the release of classified documents which the inquiry wishes to include in its report.
These include 200 cabinet-level discussions in the run-up to the 2003 invasion, 25 notes from Mr Blair to President Bush, and more than 130 records of conversations between Mr Blair or Gordon Brown and Mr Bush.
'Difficult material'
Last month, Sir John wrote to Prime Minister David Cameron expressing his regret that no agreement had yet been reached over the publication of the most "difficult documents".
He said the next phase of its work was "dependent on the satisfactory completion of discussions" between the inquiry and the government on disclosure of material that the inquiry wishes to include in its report or publish alongside it.
The final decision over which documents can be released is being taken by Cabinet Secretary Sir Jeremy Heywood, Mr Cameron's most senior adviser.
The BBC understands "greater progress" has been made in the past six weeks, and Whitehall sources have confirmed they want the inquiry to be able to publish its report before the general election in May 2015.
'Legal issues'
But Whitehall sources cautioned against suggestions in some newspapers that the documents would be made public within three months.
There were still outstanding "legal and diplomatic" issues to be resolved before a publication date could be announced, and in any case some material was likely to be redacted.
In a statement, the Cabinet Office said the process was continuing: "The government is currently engaged in discussions with the inquiry which the inquiry recognises raises difficult issues, including legal and international relations issues...
"These issues are being worked through in good faith and with a view to reaching a position as rapidly as possible."
The inquiry, which is examining the background to the UK's involvement in the 2003 invasion and its aftermath, has never set a firm deadline for publishing its final report - set to be about a million words long.
However, it is thought likely to want to publish by the end of 2014 or early 2015 at the latest, to avoid any conflict with the general election campaign.