William Hague urges South Sudan rivals to halt violence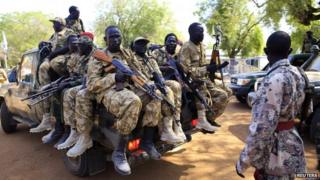 The UK foreign secretary has spoken to the leaders of both sides in the conflict in South Sudan and urged them to commit to an immediate ceasefire.
William Hague urged South Sudanese President Salva Kiir and rebel leader Riek Machar to halt the violence that has killed at least 1,000 people.
There could be no "military solution to this conflict," Mr Hague said.
His intervention is part of a wider international effort to foster a negotiated end to the fighting.
As well as the 1,000 people killed, more than 121,600 people are believed to have fled their homes in the country in recent weeks. Tens of thousands of civilians have sought refuge in UN camps.
Mr Hague said a ceasefire was vital "to prevent the deaths of more innocent civilians" and to enable international humanitarian aid to reach people "in desperate need".
He urged Mr Kiir and Mr Machar to "enter into negotiations immediately and without preconditions" and offered UK diplomatic support to any talks.
'Coup plot'
The instability in the country, which gained independence in 2011, began in July when Mr Kiir sacked Mr Machar as his deputy.
In December, rival armed factions turned on each other and Mr Kiir accused Mr Machar of trying to unseat him in a coup.
What began as a power struggle between the two men has taken on overtones of a tribal conflict. The Dinka, to which Mr Kiir belongs, are pitted against the Nuer, from which Mr Machar hails.
Last week US Secretary of State John Kerry urged both sides to enter into mediation. East African leaders on Friday agreed to attempt to bring Mr Kiir and Mr Machar to the negotiating table by 31 December.
The government has offered a ceasefire, but Mr Machar says any ceasefire has to be credible, properly monitored and preceded by the release of 11 detainees accused of being co-conspirators in the coup plan. The army says its forces are still battling over oilfields in the north.
Mr Hague attended South Sudan's independence celebrations in 2011, after it ended decades of civil war by breaking away from its northern neighbour Sudan.
There, he said: "I... witnessed the hope and optimism felt by its people after years of conflict and sacrifice. Their safety and their future must be put first.
"A worsening conflict that causes South Sudan to slip back would be a tragedy."