0845 and 0870 phone lines: Government departments warned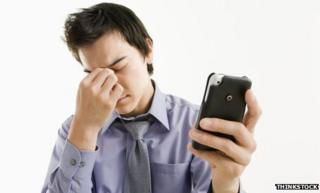 Government departments have been ordered to stop using higher-rate phone lines as the contact for key services.
Cabinet Office guidance states it is "inappropriate" to pay high charges for such services - "particularly for vulnerable and low-income groups".
A recent National Audit Office report found the numbers, often starting 0845 or 0870, cost callers £56m in 2012.
Departments will have to explain themselves to Cabinet ministers if they fail to follow the rules.
'Substantial charges'
Communications regulator Ofcom says 0843 and 0844 calls cost between 1p and 13p a minute from landlines and, typically 15p-41p a minute from mobile phones.
Calls to 0845 numbers cost between 1p and 10.5p a minute from landlines, and 12p-41p from mobiles, while for 0870 codes the rates are 2p-10p and 21p-41p.
The guidelines state: "It is inappropriate for callers to pay substantial charges for accessing core public services, particularly for vulnerable and low income groups.
"01, 02 and 03 numbers are all charged at standard geographic rates and are always included in available minutes within call packages.
"Departments should therefore first consider whether a non-geographic number is required, and if not, use a 01 or 02 prefix.
"Where a non-geographic number is needed, departments should treat the use of the 03 prefix as a default policy position for the provision of key public services."
The document says that, where higher-rate numbers continue to be used, an 03 alternative should also be offered.
'Not acceptable'
Richard Lloyd, executive director of consumer group Which?, said: "This guidance is a step in the right direction but it's disappointing no deadline has been set and public bodies will still be able to use expensive 0845 numbers.
"People should not be left out of pocket when calling essential services so we need to see these new rules brought in as soon as possible so that every government department plays fair."
July's NAO report found that about one third of central government helplines incurred higher-rate charges but that they accounted for 63% of the calls made to government.
It found that Whitehall higher-rate numbers included those for victim support, benefit and tax enquiries.
And it said people on low incomes, who were more likely to use pay-as-you-go mobiles, were worst hit by the charges.
In November, a Public Accounts Committee report criticised the use of such numbers.
Its chairwoman, Labour MP Margaret Hodge, said their continued use was "not acceptable".
The Say No To 0870 website has long campaigned against the use of higher-rate phone lines and provides "equivalent geographical numbers" as cheaper alternatives.