End-of-year review: The Liberal Democrats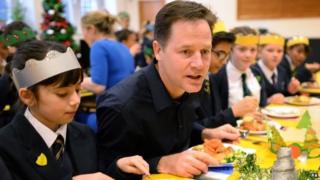 On the face of it, 2013 would seemingly be a year to forget for the Liberal Democrats.
The party was engulfed by allegations of sexual harassment made against former chief executive Lord Rennard - although no charges were ever brought - and the imprisonment of former Energy Secretary Chris Huhne.
Former leader Lord Ashdown accepts the episodes have taken their toll.
But he said: "It's how you deal with these things that matter, not that they occur in all parties from time to time."
However, despite the difficulties, Nick Clegg's party looks back on a number of successes.
'Stunning victory'
Three weeks after Mr Huhne and his ex-wife Vicky Pryce were jailed for eight months for perverting the course of justice over the swapping of speeding points, the Eastleigh by-election was held.
To the surprise of many observers, the Lib Dems were able to hold on to the Hampshire seat despite struggling at times to achieve double digits in national opinion polls.
Mr Clegg hailed a "stunning victory" which had been secured "against the odds".
The party put its electoral success, in part, down to the strength and organisation of grassroots activists, a view shared by the pollster and former Gordon Brown adviser Deborah Mattinson.
"There's some truth in their claim that they have a lot of local loyalty. They are tending to do better when there's a Lib Dem incumbent," she told BBC Radio 4.
But local successes mask a deeper problem which has plagued the Lib Dems since they went into coalition, added Ms Mattinson. Namely, what does the party stand for?
"When you view the party as a whole, people are quite contemptuous of them. They don't really get what they're for and what they've done to make things any different to just under a Conservative government."
'Big hits'
That analysis might help explain why Mr Clegg has become more vocal about listing the achievements of the Liberal Democrats in coalition.
There are also signs that the gloves might be coming off as intra-coalition rows, such as over free school meals and the EU immigration cap, have been waged in public.
Another former leader, Charles Kennedy, welcomed this strategy, arguing that the party must not return to the way things were in the first two years of the parliament.
"We took some big hits in the first half," he said. "We lost the Alternative Vote referendum and we had to do a 180-degree turn on tuition fees.
"These were not flesh wounds; these were cutting into bone. It's only in this calendar year that we've seen a slight correction of the equilibrium".
'Easy living'
If the party is to present a distinctive agenda to the public and differentiate itself from the Conservatives, then 2014 may be the year of increasing coalition friction.
But, despite the recent robustness from the leadership, the Lib Dems have stalled in national opinion polls.
Lord Ashdown said: "You can't be a party of government unless you are prepared to give up the politics of protest.
"The easy living that Lib Dems had for years had to be abandoned when we took on the burdens of government."
Mr Clegg will be hoping that those "burdens of government" can extend beyond the general election.
He has already said publicly that he hopes to be in another coalition after 2015. But Mr Kennedy warns that the party needs to be more liberal and not get dragged into speculation over who it might do a deal with after the next election.
"The last thing we need is clouding people's comprehension or limiting our own political vocabulary by seeking to build bridges one way or the other for an election outcome that we remain completely unaware of," he said.
So 2014 will be the year the Liberal Democrats try to differentiate themselves and to make their voice heard.
But there will also be pressure mounting on Mr Clegg to say with whom he would make a deal and what price he would extract for his support in another coalition.