Nigella Lawson assistants: Cameron comment sparked bid to halt trial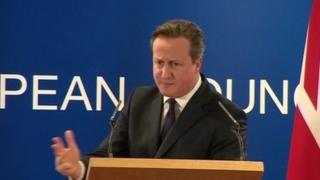 Lawyers acting for Nigella Lawson's two former personal assistants tried to get their trial halted after David Cameron said he was on "team Nigella".
Mr Cameron's comments, halfway through proceedings, amounted to a "character reference," argued a defence lawyer.
The trial did not collapse, but Mr Cameron received a stern rebuke from judge Robin Johnson.
The Grillo sisters have been found not guilty of defrauding the TV chef and her then husband Charles Saatchi.
Asked at an EU summit on Friday if he was still on "team Nigella", the prime minister said: "I have probably said enough about this issue, so I will plead the Fifth on that one."
'Massive fan'
As the prosecution reached the end of its case at Isleworth Crown Court, Mr Cameron was quoted in an interview with The Spectator magazine as admitting he was on "Team Nigella".
The term is a reference to supporters of Ms Lawson in her split from Charles Saatchi and has been used as a Twitter handle.
Mr Cameron's comments prompted lawyers acting for both sisters to renew calls for the trial to be stopped over concerns that an "endorsement" for Ms Lawson from the prime minister would influence the jury.
In the Spectator interview, Mr Cameron was asked if he was on "Team Nigella".
"I am," he reportedly said.
"I'm a massive fan. I've had the great pleasure of meeting her a couple of times and she always strikes me as a very funny and warm person, but I'm also an amateur cook and I like her recipes.
"Nancy (his nine-year-old daughter) and I sometimes watch a bit of Nigella on telly. Not in court, I hasten to add."
'Real risk'
The prime minister's words were widely reported, prompting defence calls for the judge to stop the trial.
In scenes the jury did not witness and which could not be reported until a verdict was reached, Elisabetta Grillo's barrister Anthony Metzer QC said the comments amounted to a "character reference through the back door" for Ms Lawson.
He said the case hinged on evidence from the TV chef on whether she had given the Grillos permission to use credit cards or not, adding: "The prime minister is essentially saying in the course of the trial that she is somebody that he would endorse."
Karina Arden, representing Francesca Grillo, said: "If one looks at it realistically, the man on the street would say 'Well, look, the prime minister likes Ms Lawson'.
"There is real risk that the jury will be influenced by the fact that the prime minister likes Ms Lawson and thinks she's a jolly good sort."
Irritated by how much time the legal representations were taking up, Judge Johnson issued a rebuke to the prime minister, telling jurors: "It is of regret when people in public office comment on a person involved in a trial in progress."
He said it was "inconceivable" that some members of the jury might not have seen the comments, he said: "The defendants feel aggrieved that the comments are favourable to Ms Lawson. The fact that they are aggrieved is not without justification.
"You realise that what public figures may feel about this case, or witnesses in this case, can have no bearing on your views."
Urging the jury to reach their decisions solely on the evidence, he added: "I'm sorry that much court time has been taken up by this topic.
"I don't fault the defence in making me aware of the large amount of material. I'm only sorry it has wasted almost the entire morning of court time that should have been devoted to evidence and the real issues in the case."