Sentencing of ex-MP Denis MacShane delayed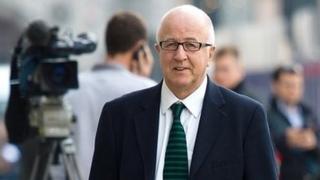 The sentencing of ex-MP Denis MacShane for expenses fraud has been delayed until Monday after the judge said he needed more time to reflect.
MacShane pleaded guilty last month to false accounting by putting in fake receipts for £12,900 of "research and translation" services.
During the 90-minute session on Friday, Mr Justice Sweeney heard from both defence and prosecution lawyers.
He said the delay did not indicate the ultimate sentence he would give.
MacShane was a Labour MP for 18 years and served as Europe minister under Tony Blair between 2002 and 2005.
Last month, he admitted filing 19 fraudulent invoices between January 2005 and January 2008. The bogus invoices were used to fund trips to the continent, including one to a book judging panel in Paris.
Paris trip
After he admitted his guilt, Justice Sweeney told MacShane that all sentencing options were available to him. The maximum sentence for false accounting is seven years.
MacShane, who resigned as MP for Rotherham in 2012, has always maintained that he did not personally profit from the claims and he has repaid the money.
But the Commons authorities have described MacShane's transgressions as the "gravest" they have come across since the parliamentary expenses scandal broke in 2009.
The police initially decided to take no action against MacShane but re-opened their inquiry in November 2012 after new evidence came to light.
The long-standing principle of parliamentary privilege meant detectives were not originally given access to correspondence with the standards commissioner in which MacShane described how signatures on receipts from the European Policy Institute (EPI) had been faked.
The EPI was controlled by MacShane and the general manager's signature was not genuine. One letter, dated October 2009, described how he drew funds from the EPI so he could serve on a book judging panel in Paris.
Four MPs and two peers have been sent to prison as a result of the expenses revelations from 2009. One further MP, Labour's Margaret Moran was given a supervision order instead after suffering mental health problems.