Theresa Villiers did not break ministerial code report finds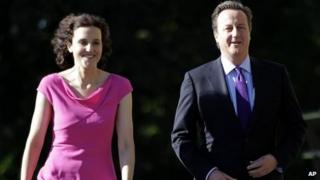 Northern Ireland Secretary Theresa Villiers did not breach the ministerial code over a meeting with a lobbyist, an internal No 10 report has found.
She had faced allegations that, as a transport minister, she failed to declare a meeting with a representative of a firm seeking to build a railway depot in the Hertfordshire green belt.
But a report by the Cabinet Secretary Sir Jeremy Heyward has cleared her.
Conservative MP Anne Main called the inquiry a "white wash".
Ms Villiers was accused of not declaring a private lunch she had in 2011 with a representative of a firm seeking planning permission for a £400m international rail freight exchange on green belt land between St Albans and London.
The proposal for five warehouses served by railway sidings, first lodged by developers Helioslough in 2006, has faced opposition from people living in the Hertfordshire village of Radlett, including the local MP Ms Main.
It was repeatedly blocked by ministers - most recently in 2010 - because of fears of damage to the green belt.
However, Helioslough later won a judicial review of the case and the government is reconsidering the matter.
Earlier this month, the Sunday Times claimed that, following FOI requests from Ms Main, Ms Villiers confirmed she had had lunch "in a private capacity" in August 2011 with Simon Hoare.
Mr Hoare is chief lobbyist for Helioslough and a Tory councillor in Mr Cameron's Oxfordshire constituency.
'Old friend'
The newspaper claimed that she had allegedly failed to declare the lunch on the official list of ministerial meetings.
But, publishing his review, Sir Jeremy said Ms Villiers had assured him that the lunch was "a personal engagement with a long-standing friend".
He said she had made it clear that she did not take any action as a result or pass on the content of their discussion to officials or ministers in the transport or communities departments.
"Having considered this matter in full, I believe both departments acted properly in respect of the planning appeal and that there is no evidence that decisions were affected by lobbying on behalf of Helioslough or other parties," he said.
But Ms Main, the MP for St Albans, said she was not satisfied with how the report had been conducted, or with its findings.
"My constituents could be forgiven for thinking this was a white wash," she said.
"Ministers must ensure that no conflict arises, or could reasonably be perceived to arise between their public duties and their private interests, financial or otherwise.
"If this is the answer then it appears to be acceptable that ministers can have private undeclared lunches with old friends to discuss sub judice planning decisions with impunity."
No 10 sources told the BBC Mr Cameron continued to have confidence in Ms Villiers, who was promoted to the cabinet last year, saying she was doing a "good job" in Northern Ireland.