Deputy Lib Dem leader Simon Hughes to join government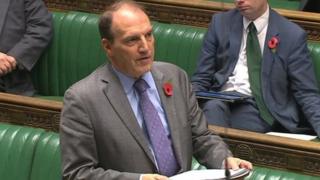 Lib Dem deputy leader Simon Hughes is to join the government as a minister of state for justice.
Mr Hughes, one of the most senior Lib Dems not yet to hold a ministerial position in the coalition, will replace Lord McNally who is to become chair of the Youth Justice Board.
Mr Hughes has been an MP since 1983.
In another change, Lib Dem MP Jenny Willott is to fill in for Jo Swinson as a junior business minister while she is on maternity leave.
Ms Willot, who is currently a Lib Dem whip, will also retain that role.
'Passionate voice'
Announcing Mr Hughes' appointment, Deputy Prime Minister Nick Clegg said he had been a "passionate voice for the party's principles and values" both in opposition and during the lifetime of the coalition.
"Simon will now be able to use his talents inside the coalition, helping the Liberal Democrats to anchor the government in the centre ground and helping us to build a stronger economy and a fairer society, enabling everyone to get on in life," he said.
Mr Hughes, who will have responsibility for family justice, mediation, freedom of information and data protection among other issues, said it was a "privilege and huge responsibility" to join other Lib Dem ministers in government.
"Issues of justice and civil liberties have been my passions since I was a teenager," he said. "Justice and civil liberties are also core issues for every Liberal Democrat in the country."
Although regarded as being on the left of the party, Mr Hughes has been a strong supporter of the coalition government with the Conservatives.
He abstained in a crucial vote on university tuition fee rises in 2010 and has been critical of cuts to housing benefit.
Lib Dem contest
The Lib Dems said Mr Hughes would step down as deputy party leader - a position to which he was elected in 2010 - but would stay in the post until a successor was chosen.
After reportedly turning down a ministerial job last year, Mr Hughes said he had agreed with Mr Clegg and other senior Lib Dems that the deputy leader should remain outside government in order to "hold the party together".
Mr Hughes' predecessor as deputy leader, Vince Cable, quit the role after he was appointed business secretary in 2010.
Lib Dem blogger Stephen Tall said the justice post was a "good role" for Mr Hughes, also suggesting that his decision to join the government was an "acceptance that (party president) Tim Farron is now the prime Lib Dem leadership candidate for activists/social liberals" in any possible future contest.
Lord McNally, who worked for former Labour prime minister Jim Callaghan before defecting to the SDP and then joining the Liberal Democrats, has resigned from the government and will take up his new role in March.
The Youth Justice Board was facing the axe in a cull of quangos in 2011 but was reprieved following pressure from campaigners.
In a related move, barrister and Conservative peer Lord Faulks is to become the government's justice spokesman in the House of Lords.