One Direction are boosting the UK's world role - Sir John Major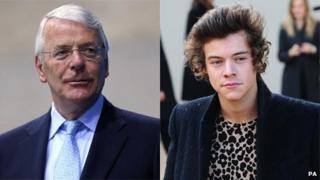 The worldwide success of One Direction has increased "trust" in British diplomacy, former Prime Minister Sir John Major has argued.
He told a parliamentary committee the fame enjoyed by the boyband and musical acts such as Susan Boyle and Adele was boosting the country's "soft power".
Sir John also praised Downton Abbey, Premier League football and the Royal Family for their global roles.
He said few countries enjoyed such a cultural advantage.
'Household names'
Conservative Sir John, who was in Downing Street from 1990 to 1997, told the House of Lords Committee on Soft Power: "We've had over 20 British albums top the charts in countries around the world. It's not just the established stars like the Beatles and the Rolling Stones.
"You have Adele, One Direction, Susan Boyle. Wherever you go, they're household names and they have an implication for perception and thus soft power."
Earlier this month, One Direction's third album, Midnight Memories, entered the US Billboard 200 at number one making them the only group to have their first three albums top the chart in their opening week.
On Monday, One Direction star Harry Styles won a court order stopping the paparazzi from harassing him.
Adele and Susan Boyle have also enjoyed huge success in the US and many other countries.
Sir John said: "That is a background that few countries can match in terms of profile and that is important for our diplomacy."
He added: "Because people see and think about Britain, because of these elements of soft power, and because of our history, there is...a greater tendency to trust the British in diplomacy".
When appearing on BBC Radio 4's Desert Island Discs in 1992 - admittedly almost two decades before Adele, One Direction and Boyle came on the scene - Sir John listed works by artists including Gershwin, Elgar and Diana Ross and the Supremes among his choices.