Home Office published names of 1,600 illegal immigrants in error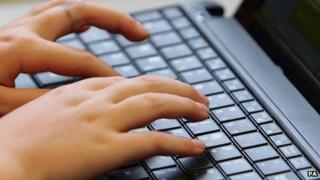 Personal details of nearly 1,600 illegal immigrants whose families were in the process of being returned home were accidentally published on the Home Office website.
Names, dates of birth and immigration status were available online.
The data was taken down immediately after officials discovered the problem.
Immigration minister Mark Harper said the risk to those involved had been "low", but Labour accused the Home Office of "staggering incompetence".
The information, relating to 1,598 people, was available online from 15 to 28 October. It did not include personal addresses or financial details.
'Assurances'
Fewer than 30 visits were made to the relevant webpage, but the chairman of the Home Affairs Select Committee, Labour MP Keith Vaz, said he was "appalled at this serious breach of personal data".
He added that it raised "serious questions about the department's ability to function adequately".
"We will be seeking assurances from the Home Office that they are looking carefully at their reporting systems. They must ensure that this does not happen again," said Mr Vaz.
In a written statement to Parliament, Mr Harper said: "Unfortunately between 15 and 28 October 2013 some personal data was available on the Home Office website as part of a spreadsheet alongside the regular data set in error."
He added: "The department has taken steps to establish whether the data was viewed or accessed outside of the Home Office. That analysis suggests there were fewer than 30 visits to the relevant webpage.
"It has not been possible to ascertain whether those who visited the webpage went on to open the data sheet in question or accessed the part of the data sheet which contained the personal information."
The Home Office has notified the Information Commissioner's Office and is conducting an internal investigation.
Mr Harper said: "Our official assessment is that the risk to those whose personal information was accessible for the period is low. However, I have instructed my officials to take steps to notify those individuals concerned, where it is possible and appropriate to do so."
For Labour, shadow immigration minister David Hanson said the episode showed a "staggering level of incompetence in the Home Office".
He added: "Ministers need to provide answers about how this was able to happen and whether people's data is still at risk, and [Home Secretary] Theresa May needs to take urgent action to stop the incompetence on her watch."