Call for universal childcare to boost economy and society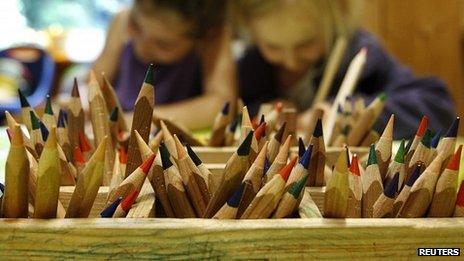 Providing universal childcare could help more than 250,000 parents back to work and boost the economy by £1.5bn, according to a new report.
The IPPR think tank, which is close to Labour, said children's centres should be at the heart of a new system of state-funded childcare support.
Parents were currently "not served well" by either the state or the private sector, the body concluded.
It also warned that many people have "lost faith" in the benefits system.
It also argues that public support for the welfare state is eroding and the system needs to do more to recognise claimants who have contributed over many years through their taxes.
The IPPR study - which Labour policy chief Jon Cruddas is reported to be following closely - rejects suggestions that British society is "broken" but accepts many people are feeling "enormous strain".
Family, it argues, remains a "critical" bedrock of society, both in terms of cohesion and economic potential.
"The recession made it vital to share resources in families, while recovery has been accompanied by deep anxiety for the future, particularly for young family members starting out in life," its director Nick Pearce said.
"As society ages, and care needs rise, questions of inter-generational support and risk sharing will dominate policy debate. A new politics of the family is taking shape.
"At its heart is the question of how to fund, expand and reform care of children and the elderly, neither of which is currently well served by public services or private market."
The UK has some of the highest childcare costs in the world, with many people with two or more children saying it does not make financial sense for both parents to work.
The government has said taxpayer-funded support, worth up to £1,200 a year in costs per child, will be available to parents of children up to the age of five after 2015 - replacing the existing employer-funded voucher scheme.
All three and four-year-olds in England are currently entitled to 15 hours free nursery education and Labour wants to extend this to 25 hours.
The IPPR report also calls for reform of working-age benefits such as Jobseekers' Allowance by giving greater protection to those who have contributed for years but suddenly find themselves out of work.
It said there was a crisis of "popular legitimacy" in the benefits system and a growing concern about a breakdown in the fundamental relationship "between putting in and getting out".
The current level of JSA for the over-25s - worth £71.50 a week - could seem like a "derisory sum" to those who had been in work and paying their taxes for decades.
"This is compounded by the knowledge that people without a recent work record are entitled to the same amount of cash through benefits like JSA," it said.
"The implication is that the system does not recognise years of hard work and contribution - only immediate needs."
It wants the benefit to become a "distinct entitlement" for those who have been in work for a certain amount of time - with those eligible receiving more money for a limited period of time.
"This would mark an important step towards drawing a clearer distinction between 'social insurance' for those who have paid in and means-tested 'social assistance' for people without a contribution record," it added.