Cameron jokes about Mandela 'selfie' with a Kinnock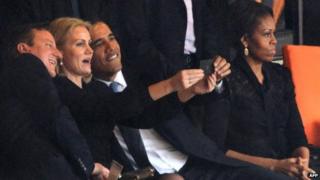 David Cameron has joked about posing for a "selfie" photograph at Nelson Mandela's memorial service.
The prime minister, US president Barack Obama and Danish leader Helle Thorning-Schmidt huddled together for the snap.
Asked about it at PM's questions, he joked that Mr Mandela had "brought people" together in life.
"So when a member of the Kinnock family (Denmark's PM is the former UK Labour leader's daughter-in-law) asked me... I thought it only polite to say yes."
The photo was taken by Ms Thorning-Schmidt - whose father-in-law Neil led Labour in the 1992 general election against the Conservatives who at the time featured a young David Cameron among their backroom staff.
There has been a mixed reaction to the photograph, with some saying it was disrespectful, although others said it was in keeping in with the celebratory mood at Tuesday's event in Soweto, South Africa.
At Prime Minister's Questions, Mr Cameron was asked by Lib Dem MP Martin Horwood whether he had had the "opportunity to discuss international mobile phone usage with any other European heads of government over the last day or so?"
To laughter from MPs, Mr Cameron replied: "You could say, in a roundabout way. Perhaps in my defence, you should always remember that the television cameras are always on.
"But in my defence I would say that Nelson Mandela played an extraordinary role in his life and in his death in bringing people together.
"So of course when a member of the Kinnock family asked me for a photograph, I thought it was only polite to say yes."