MPs duck out of The Duck House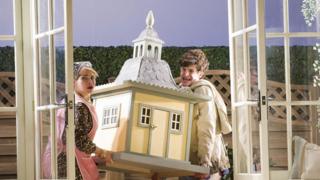 A new West End comedy takes satirical aim at the 2009 MPs expenses scandal. So where were all the MPs?
MPs have got pretty thick skins. Showing you can laugh at yourself, or at least squeeze out a fixed grin, is an essential skill in modern politics.
Ever since Harold Macmillan winced his way through Peter Cook's merciless impression of him in Beyond the Fringe in the early 1960s, there has been a tradition of MPs sucking up the best - and worst - the West End can throw at them.
Yet there were very few honourable members in the audience for the opening night of The Duck House. at the Vaudeville Theatre on Tuesday.
Perhaps the expenses scandal that rocked Westminster in 2009 is still too raw. Or the irony of nabbing free tickets for a satire about freeloading proved too much.
Either way, it would not have made comfortable viewing for them.
Frantic
The expenses debacle is ripe for satire - the writers of The Duck House have called it "the gift that keeps on giving". But how do you top real life events that already feel like a Whitehall farce?
The Duck House goes for maximum silliness.
Ben Miller - one half of TV double act Armstrong and Miller - plays Robert Houston, a Labour MP attempting to jump ship to the Tories before the 2010 general election. There is just one problem - he is up to his neck in dodgy expenses claims.
A massage chair, a glittering toilet seat, hanging baskets. You name it, he's claimed for it. Then there is the titular Duck House, which - spoiler alert - dispenses eggs at one point.
Houston's increasingly frantic efforts to keep his troughing ways from David Cameron's enforcer are the motor that drives the farce.
Throw in a Miss Whiplash figure, played by X Factor survivor Diana Vickers, panda-related mistaken identity and a Tory MP who gets his kicks by being beaten with a rolled-up copy of the Lisbon Treaty and you get a pretty ripe comedic stew.
Physical role
There are plenty of topical references - Chris Huhne's driving, Nadine Dorries's jungle escapades - but you don't have to be a political insider to get the jokes.
"I'd say it's more of a farce than a satire," writes Miller in the programme. "It's wonderfully apolitical."
Houston is not portrayed as a bad man, as such, just someone who has been following the rules like everybody else.
"The powers that be have encouraged MPs to claim for everything, and Robert has taken full advantage of the system," adds Miller.
There is even an attempt, at the very end, to put the MPs' side of the story.
"Who sees a £10 note on the floor and doesn't pick it up?" asks Miller's hapless MP, before the final curtain falls.
But this is very far from an attempt to let MPs off the hook. It extracts every last last bit of comic mileage from the idea of our elected representatives being on the take. As Houston says at one point: "When in Rome, get a receipt for your cappuccino."
Britain's TV comedy establishment was out in force on press night to support Miller and writers Colin Swash, veteran of 40 series of Have I Got News for You, and Dan Patterson, producer of Whose Line Is It Anyway?, Mock the Week and Room 101, among many others.
"It was very funny," said David Mitchell afterwards. "Press night is always a more self-conscious audience, but they were laughing all the way through."
There was general amazement at Ben Miller's energy levels - it is a very physical role and Miller gives it the full Basil Fawlty.
"I was worried about his voice. I hope he hasn't lost it," said David Baddiel.
Steve Punt, there with his comedy partner, Hugh Dennis, also noticed the lack of MPs in the audience.
"Perhaps there is a big vote going on at Westminster." (There wasn't.)
"I think they are probably quite irritated that this is being dragged up again and plonked in the middle of the West End. But it is not something the public are going to forget.
"I think it would be great if it was a hit. It is not a musical-based film and it wasn't written 400 year ago. It would be healthy for the West End."